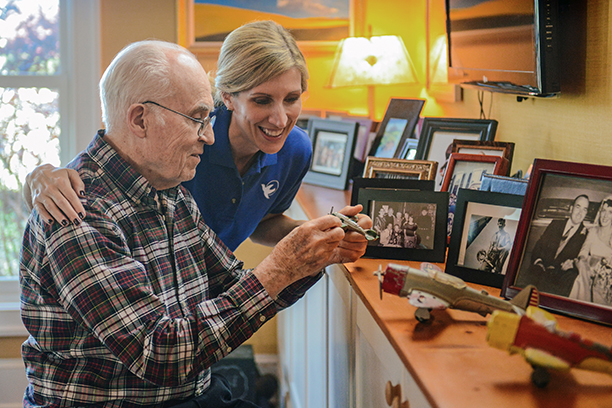 Specialized Memory Care for Seniors with Dementia or Alzheimer's in East Cincinnati, OH.
Dementia and Alzheimer's Care from Visiting Angels of East Cincinnati, OH

Specialized memory care for dementia or Alzheimer's from Visiting Angels of East Cincinnati, OH is a specialized form of care. We offer all of our clients top-notch and compassionate care while assisting with dementia and Alzheimer's symptoms. Seniors struggling with specialized memory disorders are taken very seriously at our agency—and you can see that in the way we care for clients. When you choose to treat yourself or a loved one with specialized memory care, you receive a caregiver for them and the family as a whole. We offer respite care for families, providing the family caregiver with a break. When you are overwhelmed or have a busy schedule, you can rely on our professional caregiver at Visiting Angels to lend a hand.
Specialized Dementia and Alzheimer's Care
We have been a leader in the home care industry for over 20 years; during this time, we realized a need for specialized memory care training—for a disorder such as dementia and Alzheimer's disease. We reached out to the Alzheimer's Foundation of America to create our detailed training programs—which are available to all of our caregivers. During this training, we look closely at the most common nuances in play when providing Alzheimer's and dementia care.

We are committed to doing whatever it takes to provide our clients with superior care. We provide this commitment in many ways, such as hiring responsible and dedicated caregivers to caring. Our specialized memory care providers have all completed an intensive interview process and passed with flying colors. Our clients and their families can rest assured knowing that our team has completed background checks, verified references, and spoke with previous employers. Bringing you dependable dementia and Alzheimer's care is what Visiting Angels of East Cincinnati, OH, is all about.

Most dementia and Alzheimer's care agencies will place a caregiver in your loved one's home and walk away—never truly getting to know their clients or their needs. At Visiting Angels of East Cincinnati, OH, it is never like that. We take the time to get to know how clients and all of their needs. We use a system that offers a continuous monitoring system, letting us stay on top of care and needs. We speak to clients and their families frequently, on the phone or by drop by, to see how our caregivers are doing. We are available to answer phone calls and questions around the clock—you are never left worrying overnight!
Specialized dementia and Alzheimer's care is just a phone call away at Visiting Angels of East Cincinnati, OH. Contact us today to learn more.
Serving Eastern Cincinnati: Montgomery, Hyde Park, Mt. Lookout, Terrace Park, Newtown, Kenwood, Blue Ash, Amberley Village, Milford, Indian Hill, Amelia, and Anderson Township
Visiting Angels
EAST CINCINNATI, OH
8595 Beechmont Ave #207
Cincinnati, OH 45255
Phone: 513-898-1440
Fax: 513-898-9075