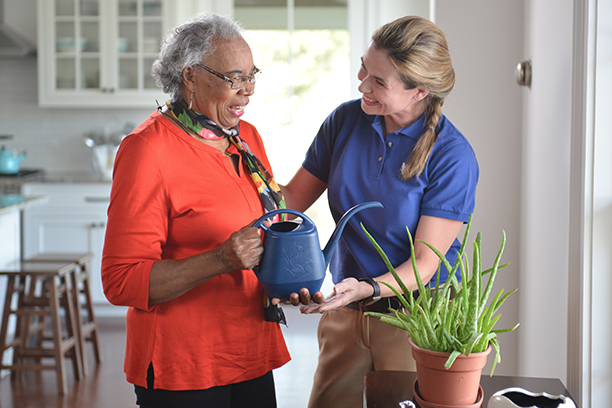 Learn More About Elderly Home Care Services for Seniors with Alzheimer's in Edgewater, MD and Surrounding Areas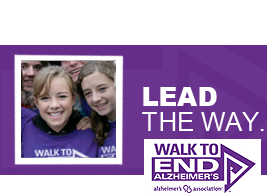 Visiting Angels helps families in Edgewater, Crofton, Bowie and surrounding MD communities understand the basics about Alzheimer's disease, including symptoms and how elderly home care services can help
What exactly is Alzheimer's and what are its symptoms? What are the best options for my loved one who is living with the condition?
If your senior loved one is suffering from Alzheimer's disease, you probably have a lot of questions about their condition. This guide will help answer those questions and provide you with an understanding of how Alzheimer's in-home care by Visiting Angels Edgewater can help.
What is Alzheimer's disease?
Alzheimer's disease is a degenerative brain disorder that is often characterized by a dramatic decline in cognitive ability and drastic changes in behavior. It is a progressive disease that worsens over time and usually takes many years to manifest fully. Around 5.5 million Americans are currently living with the condition, majority of whom are elderly citizens over the age of 65. Without the right elderly home care services, many can suffer greatly from the condition.
Even though it may seem like a merely mental disease, it is a terminal condition. Most sufferers average 4 to 8 years of life expectancy after the initial diagnosis, although some individuals have managed to live 15 to 20 years after that first diagnosis.
What is the difference between dementia and Alzheimer's?
Dementia is just the umbrella term for a significant range of brain disorders, the most common of which is Alzheimer's. Some estimates place Alzheimer's at 60-80 percent of all cases of dementia. Therefore, it can be said that all those suffering from Alzheimer's also have dementia. The condition is manageable with proper elderly home care services and doesn't have to be unbearable for the sufferer.
What are some risk factors for Alzheimer's?
While the exact cause or root of Alzheimer's is still not understood, there are three major risk factors that are associated with the condition. The first of these risk factors is advanced age – in the majority of cases, symptoms begin after the age of 65. Another risk factor is genetics, and if there is a history of Alzheimer's in the family then there is greater risk of developing the condition. The third major risk factor is heart health. Having poor cardiovascular health greatly increases the risk of developing the condition, and individuals with a history of hypertension or high cholesterol are at an even greater risk. Having access to elderly home care services, however, can make the condition manageable and reduce the drastic symptoms of Alzheimer's.
For more information on Alzheimer's and how Visiting Angels can help your senior loved one living with the condition, please contact our Edgewater, MD office today.
Serving Anne Arundel and Prince George's Counties, Including Edgewater, Crofton, Bowie, Gambrills and Surrounding Areas
Visiting Angels
EDGEWATER, MD
3168 Braverton St #400
Edgewater, MD 21037
Phone: 410-956-7771
Fax: 410-956-7757