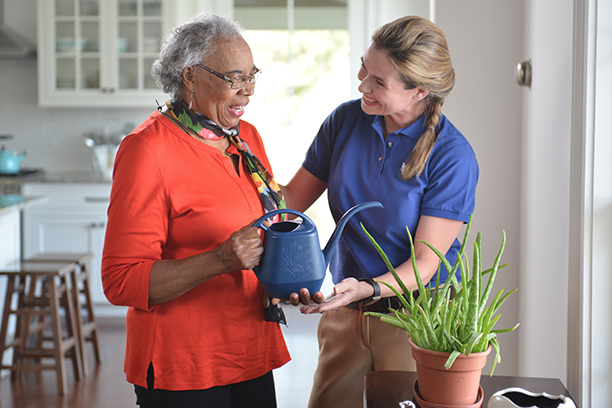 Living Assistance Services from Experienced Caregivers for Seniors in Edgewater, MD and Surrounding Areas
Our caregivers have the experience needed to provide quality living assistance services for seniors in Edgewater, Crofton and Bowie, MD
At Visiting Angels, we offer a strong team of caregivers that have an extensive amount of experience in the senior care field. We ensure that by adopting a comprehensive personalized screening system into every Visiting Angels office, including our office in Edgewater, MD. This system attracts only the best of the best, so we can give top-tier in-home care services to you.
We understand that you may nervous about not only inviting a stranger into your loved one's home, but also trusting them to provide the in-home elderly care they need. With Visiting Angels Edgewater, you can have peace of mind knowing your loved one is in the hands of a caring and experienced professional.
Professional Living Assistance Services from Compassionate Caregivers at Visiting Angels Edgewater
We are serious about strengthening our team of caregivers whenever we can. In turn, we often look for new passionate and skilled caregivers.
We encourage all of our licensed senior care agencies to perform multiple interviews on each potential hire before considering them. Also, we obtain a variety of references from different credible sources for each and every applicant. For example, these sources can include previous clients, healthcare institutions and volunteer organizations. This ensures that we have all the information that we need to make an educated decision about whether or not to hire this specific potential caregiver.
At Visiting Angels, we don't believe in "on the job training." Instead, we recruit caregivers that already have strong experience in the senior care industry or participation in healthcare certification training programs.
We want our caregivers to have the specialized knowledge that they need to be the quality caregivers that our clients deserve. For example, if your loved one needed someone who specialized in personal and hygiene care we'd match them with someone who knows a wealth of knowledge on the topic so they can help in any way that we can. We'd never put someone that was unskilled in that position.
Additionally, most of our caregivers have worked with us for many years because they believe in our vision of providing the highest quality living assistance services to help seniors maintain their independence while getting the support they need.
Before inviting a caregiver into your home, we will give you the opportunity to interview a variety of caregivers. This ensures that your loved one has the best and most comfortable experience that they can have with a caregiver. We want to make sure that your concerns and frustrations just melt away.
You deserve a caregiver that's compassionate, skilled and will fit into your schedule. At Visiting Angels, we will ensure that you will get a caregiver that fits all three criteria.
To get started with living assistance services, contact our Edgewater office today.
Serving Anne Arundel and Prince George's Counties, Including Edgewater, Crofton, Bowie and Surrounding Areas
Visiting Angels EDGEWATER, MD
3168 Braverton St Ste 400
Edgewater, MD 21037
Phone: 410-881-8405