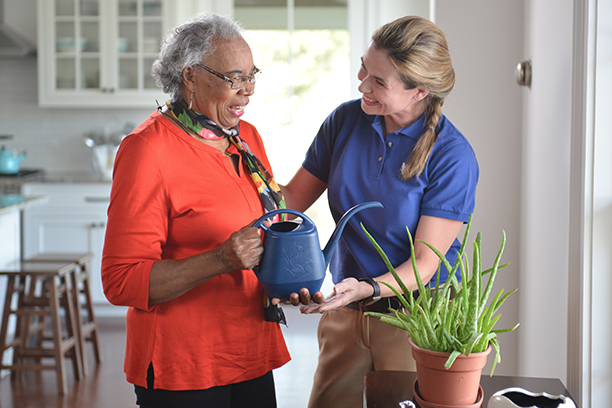 How Home Health Aides from Visiting Angels Edgewater Can Help Manage Alzheimer's Symptoms
At Visiting Angels, our senior caregivers and home health aides are committed to providing quality in-home care for seniors with Alzheimer's in Edgewater, Crofton and Bowie, MD
According to the Alzheimer's Foundation of America, more than 5 million Americans are living with Alzheimer's disease, a terminal brain disease that causes a rapid decline in memory and cognitive ability. A diagnosis of Alzheimer's can be a frightening event, but there are steps you can take with a home health aide to make the suffering manageable.
Although there is no cure for Alzheimer's, there are treatment and therapy options that can alleviate some of the pains that come with the worsening symptoms. Senior caregivers are often crucial to this process, as they help living with the condition manageable for those seniors. If you think that your loved one may be showing symptoms of Alzheimer's, it is crucial to be proactive and get them to their physician so that a proper diagnosis can be made. After the diagnosis, it is just as important to establish a home health aide to help in the daily life of your senior loved one.
What Should You Do if Your Loved One Has Alzheimer's?
First, be aware of the 10 Warning Signs of Alzheimer's:
Memory loss that has a negative impact on daily life: not remembering names, or things that recently happened, or trouble with retaining new information.
Having issues with planning or problem solving.
Difficulties with completing familiar tasks at home.
Persistent confusion about time and place and losing track of time.
Difficulty with understanding visual images and other spatial relationships.
Newly established issues with words in writing or in speaking: signs may include not being able to finish sentence or find the right words frequently.
Often misplacing things and not being able to retrace steps: people with Alzheimer's may often place items in odd places or even accuse people of stealing.
Decreased or poor judgement when making decisions.
Persistent withdrawal from work or social activities.
Drastic changes in mood or personality.
If your senior loved one is experiencing any of these symptoms on a consistent basis, it is crucial to get them diagnosed by a physician. Alzheimer's should not be mistaken as a normal part of the aging process or just basic forgetfulness. Many seniors may experience some of these symptoms in differing degrees, but Alzheimer's patients often gradually increase the frequency in which they experience these symptoms. That is why senior caregivers from Visiting Angels Edgewater can be an integral part of living with the condition. We provide quality Alzheimer's care to seniors in Edgewater, Crofton, Bowie and surrounding areas in Maryland that help them manage their symptoms in familiar surroundings. With our help, your loved one can continue living in their own home while getting the personalized support they need.
To learn more about Alzheimer's disease and how our home health aides can help your loved one once they've been diagnosed, please call our local Edgewater, MD office today.
Serving Anne Arundel and Prince George's Counties, Including Edgewater, Crofton, Bowie, Gambrills and Surrounding Areas
Visiting Angels
EDGEWATER, MD
3168 Braverton St #400
Edgewater, MD 21037
Phone: 410-956-7771
Fax: 410-956-7757