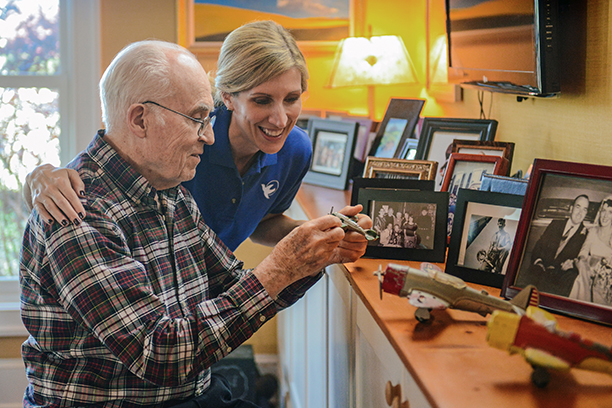 Myths About Elder Care in Fond du Lac
Elder care can benefit seniors in Fond du Lac, WI in a variety of helpful ways. However, resistance to the idea is not uncommon. Many times, though, it's due to misunderstandings and misconceptions about the nature of elder care and the support it can provide. At Visiting Angels® Fond du Lac WI, we will debunk those myths about elder care.
To ensure you're making the best decision for your loved one – based on the facts – here's a look at a few common elder care myths and the truth behind each one:
Myth: Elder care results in a loss of independence. For many seniors, the thought of losing their independence is frightening. But, at Visiting Angels Fond du Lac WI, we know that elder care can help your loved one not only maintain their independence at home, but regain lost freedoms. In fact, they'll get the help and support they need to enjoy a wider range of activities – and a fuller life.
Myth: Elder care should be delivered by a family member. Many family members want to be involved in the care their loved one is receiving. But if your aging relative needs daily assistance, or 24/7 care, that's simply not feasible for most family caregivers to deliver. The good news is that a professional elder care agency, like Visiting Angels Fond du Lac WI, can offer the exact level of care that's needed - whether it's to supplement family care or provide full-time, private duty care.
Myth: Elder care is for those who are seriously ill. When a loved one is facing a serious diagnosis, such as Alzheimer's or dementia, elder care from Visiting Angels Fond du Lac WI can certainly help in those situations. But support can be more basic, too. For instance, our at-home caregivers can assist with tasks like meal planning, cooking, transportation, and light household chores. Beyond that, caregivers can serve as a source of friendship and companionship for your aging loved one.
Myth: Elder care will cost too much. There are certainly real costs associated with elder care. However, care in a nursing home or assisted living facility is often significantly more expensive. Not only that, but the cost of not providing access to home care can be great too, especially if your loved one falls, gets injured, or isn't taking care of themselves.
Get the Facts Behind Elder Care in Fond du Lac WI
At Visiting Angels Fond du Lac WI, we're dedicated to helping families understand the facts about elder care, as well as their options and how their loved ones can benefit from them. Our consultations are completely no-cost and obligation-free. To books yours, simply call our Fond du Lac, WI office today.
Serving Fond du Lac & Calumet Counties
Visiting Angels
FOND DU LAC, WI
885 Western Ave #450
Fond du Lac, WI 54935
Phone: 920-375-5555
Fax: 920-328-0324