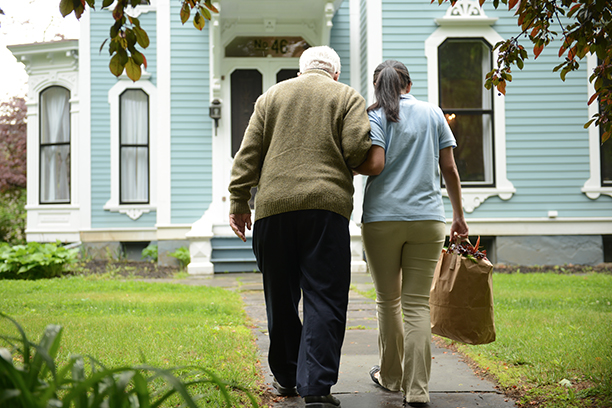 Senior Care Services in Fond du Lac Help with Fall Prevention
At Visiting Angels® Fond du Lac, WI, it is our mission to help seniors live longer and more comfortably in their homes with senior care services. Our compassionate professional caregivers can help seniors avoid falls by assisting them with everyday activities.
Falls are the leading cause of injury to people age 65 and older. Sometimes, falls may be debilitating, even fatal. Besides physical injury, falls can affect emotional stability-generating fear of falling again, anxiety and depression.
Visiting Angels Fond du Lac offers a free Fall Risk Assessment as part of our no-cost, no-obligation senior care services consultation. When we come to your loved one's home to assess their needs for senior care services, a member of our team will identify potential risks and provide guidance on how to correct the potentially dangerous situations.
Preventing Falls in Fond du Lac
Senior care service professionals from our agency in Fond du Lac can assist with a wide range of everyday activities such as showering, preparing meals, light housekeeping, and driving to doctor appointments. But that's just the beginning of how we help. Whether through our Fall Risk Assessment or through every day visits to your loved one's home, we can help by:
Discussing with family members how to prevent falls and what to do if a fall happens.
Removing small area rugs or adding double-sided tape under rugs, especially at corners.
Cleaning up clutter to create open pathways.
Adding night lights to bedrooms, halls and bathrooms.
Providing recommendations on where to installing grab bars, handrails, and nonslip strips to showers and tubs. Our senior care service providers can also assist seniors and disabled adults with showering, toileting and other personal care tasks that can be dangerous.
At Visiting Angels Fond du Lac, we've gathered a list of questions you can ask your loved one's doctors. These questions and activities can help to identify if your loved one is at risk for falls. Identifying risks can help to keep your loved one safe.
At your loved one's next doctor appointment, provide a list of all medications including over-the-counter drugs and supplements. Determine if medications have side-effects creating a risk for falls.
Tell the doctor if your loved one is experiencing joint pain, shortness of breath, and numbness in their feet and legs.
Exercise improves strength, balance and mobility. Check with your loved one's doctor to see if he or she is healthy enough to begin an exercise or walking regimen.
Make sure eyeglass prescriptions are current and that glasses fit, are in good shape without scratches, and that they are worn.
Check hearing aid to ensure it's working properly.
If you are worried about your loved one's safety at home, senior care services from Visiting Angels Fond du Lac can help. Call our Fond du Lac office today to schedule a senior care service consultation.
Serving Fond du Lac & Calumet Counties
Visiting Angels
FOND DU LAC, WI
885 Western Ave #450
Fond du Lac, WI 54935
Phone: 920-375-5555
Fax: 920-328-0324