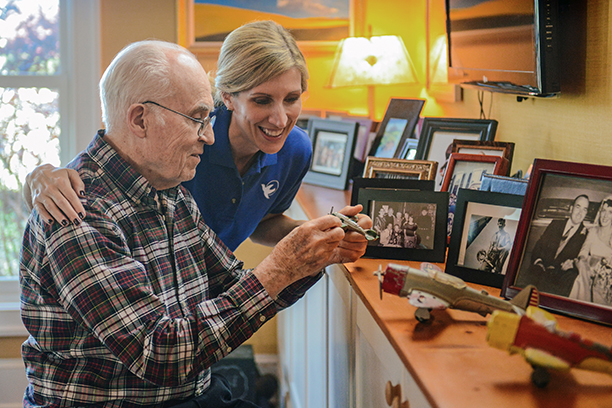 FAQ About Senior Care Services from Visiting Angels Frederick
When faced with the prospect of choosing private home care services for a loved one, it's easy for families to feel overwhelmed. The process of finding a reliable caregiver may leave you with more questions than solutions. For over 21 years, Visiting Angels Frederick has helped families in Frederick, Middletown, New Market, Walkersville and all of Frederick County, Maryland. We can answer your questions so you can make the best choice for your loved one.
We've included some answers to the most frequent inquiries we've received concerning our senior care services below.
What Are The Benefits of In-Home Senior Care Services in and Around Frederick, MD?
In addition to aging in place, hiring a professional in-home caregiver provides many benefits for elderly adults in Frederick and surrounding communities, including:
Your loved one can receive one-on-one, personalized support to help them age in place


A flexible schedule that allows them to enjoy their everyday routine


Assistance with Activities of Daily Living (ADLs), as well as companionship to reduce the risk of isolation


Lower costs compared to care in a nursing home or similar facility


Supervision and communication from a reliable caregiver to gives families peace of mind
What Does "Aging In Place" Mean?
To age in place is to be able to live independently and comfortably in one's own home or that of a close relative or friend, or at a residential care facility.
How Is In-Home Care Different Than Home Health Care?
In-home health care is medical treatment administered by a registered nurse, physical therapist or occupational therapist in the client's home. In-home care focuses on providing assistance with personal care tasks that the client is unable to do on their own.
Visiting Angels Frederick does not provide home health care and cannot assist with tasks such as administering medication or changing wound dressings. However, our in-home senior care services can provide your loved one with companionship and assistance with activities of daily living, such as bathing, getting dressed, preparing meals, getting around the house, and running errands.
What Home Care Services Does Visiting Angels Frederick Provide?
In order to help your loved one maintain their freedom while living at home in comfort and safety, Visiting Angels Frederick offers a range of personal care and companionship services.
Our in-home senior care services include:
Meal planning and preparation
Light housekeeping
Medication reminders
Help with personal hygiene
Mobility assistance
Toileting and incontinence care
Help with running errands
Transportation assistance
And more
In addition, our Senior Life Care Navigation program includes specialized senior care services, like dementia care, palliative care, end of life care and more.
Does Visiting Angels Frederick Care for People With Alzheimer's Disease or Other Medical Conditions?
Our caregivers do not provide medical care, but they do provide high-quality personal care for seniors with dementia and other chronic medical conditions. Visiting Angels Frederick is here to help whether your loved one needs help with personal hygiene, cooking, cleaning, and errand running.
The majority of our caregivers have either firsthand or extensive professional experience with Alzheimer's care or other health issues, and some have even gone so far as to acquire specialist care certifications from recognized institutions. Our "Caregiver University" offers specialized education for caregivers dealing with diseases such as diabetes, congestive heart failure, and dementia. A coordinator will get in touch with you if they identify any concerning signs or changes in your loved one's health.
Does Visiting Angels Frederick Provide Residential Senior Care Services?
Visiting Angels Frederick does provide supplemental senior care services at Frederick County's assisted living facilities. Assisted living facility workers often look after more than one senior citizen every shift. In order to ensure that their loved one receives the appropriate amount and frequency of care, some families choose to engage a professional caregiver to augment the support offered by facility personnel.
With the help of a caregiver from Visiting Angels Frederick, your loved one may get the same high quality of care for a longer period of time. Hiring a professional caregiver may prevent your loved one from being relocated to a more dependent wing of the institution, where they may incur greater daily care costs.
How Can I Get Started with Visiting Angels Frederick?
To get started with senior care services from Visiting Angels Frederick, the first thing you should do is set up a meeting with our care coordinator so that you can go through your concerns, have your questions answered and learn more about the home care options available to you.
We provide a free in-home consultation and care plan for your loved one outlining the senior care services we will provide if you choose to hire one of our caregivers.
Visiting Angels will find a caregiver who is qualified, compatible and available to help your loved one. As soon as you and your loved one are comfortable with the caregiver, they will start working for you.
Can I Change My Loved One's Schedule?
The home care schedule is flexible and may be changed as needed. The plan is meant to benefit your family, not our agency. Permanent schedule changes require a one-week notice, but Visiting Angels is flexible and recognizes that last-minute adjustments may be unavoidable. Our coordinators will make every effort to ensure that you get the schedule you need to account for emergencies.
What If I Would Like To Select A New Caregiver?
Finding the perfect caregiver is the first step to providing quality in-home senior care services, and that's what we do at Visiting Angels Frederick. Through the Select Your Caregiver program, a care coordinator will get to know your loved one and make a personalized recommendation to match them with the right caregiver.
It may take some time for your elderly loved one and their in-home caregiver to get into a routine together. But if you ever feel that the caregiver isn't working out, you may always let your coordinator know and ask for a replacement.
What If I No Longer Need Senior Care Services from Visiting Angels Frederick?
Visiting Angels Frederick requires a two-week cancellation notice if you decide you no longer need our senior care services. Permanent schedule modifications may be made with as little as one week's notice if you need to reduce the number of hours or days your elderly loved one needs care.
If you have additional questions, call our Frederick, MD, office at 301-418-6172 or fill out our form today!
Serving Frederick, Middletown, New Market and surrounding areas in Frederick County
Visiting Angels
FREDERICK, MD
801 Toll House Ave #A3
Frederick, MD 21701
Phone: 301-418-6172
R2176