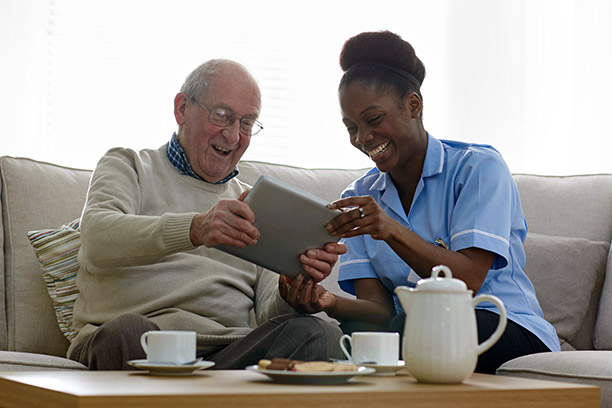 Alzheimer's Home Care Services for Seniors in and Around Frederick, MD
Alzheimer's disease affects the way older people think and behave, which can lead to memory loss, mood swings, and changes in personality. Alzheimer's patients are more likely to stumble, get confused and walk off or have cooking mishaps. Dealing with the many phases and difficulties that come with a loved one's diagnosis with Alzheimer's may be daunting, regardless of how long you've been aware of the diagnosis.
There is no treatment for Alzheimer's disease; however, there are things you can do to assist your loved one manage it as best you can. Visiting Angels Frederick can help with this. Our Alzheimer's home care services are a valuable resource for families in Frederick, New Market, Middletown and other nearby towns in Frederick County, MD.
Call 301-418-6172 to learn how our caregivers can help your loved one.
Why Do Seniors in the Frederick, MD Area Choose Alzheimer's Home Care from Visiting Angels?
When it comes to Alzheimer's care, families in Frederick County have lots of options. Assisted living and memory care facilities are popular choices for families that need to find new homes for aging relatives. This, however, may not be the best solution for many seniors.
Alzheimer's disease often results in memory loss, thus adapting to a new environment may be difficult for those with the the illness. Those with Alzheimer's are more likely to flourish if they are able to continue living in their own home while receiving professional Alzheimer's home care rather than in a memory care facility.
At Visiting Angels Frederick, our Alzheimer's home care services will help your loved one manage their symptoms and stay comfortable in familiar settings. Your loved one's care plan will be tailored to incorporate the services they genuinely need and fit around their schedules.
Our Alzheimer's care services can be tailored to meet your loved one's needs as their condition develops. In order to provide your loved one the attention they need, we have senior care specialists on call 24 hours a day. It is entirely up to you when and how often a caregiver comes to see you and for how long they stay. As your loved one's illness gets worse and you need to set up more time, we have care available for up to 24 hours.
Our Alzheimer's home care services include:
Meal planning and preparation
Light housekeeping
Help with personal hygiene
Medication reminders
Wandering and fall prevention
Incontinence care
Transportation assistance
Help with running errands
And so much more
When developing tailored care plans for the seniors we care for, we consider criteria such as the stage and course of the disease, preferences and requests, and other information offered to us by you, family care providers and medical experts. When providing Alzheimer's home care services, our caregivers not only focus on helping seniors age in place while managing symptoms of Alzheimer's, but also on giving family caregivers peace of mind.
Get Started with Alzheimer's Care from Visiting Angels Frederick
Call our Frederick, MD office at 301-418-6172 or fill out our form to schedule a free in-home consultation today!
Serving Frederick, Middletown, New Market and surrounding areas in Frederick County
Visiting Angels
FREDERICK, MD
1003 W 7th St #310
Frederick, MD 21701
Phone: 301-418-6172
R2176
"We have been so lucky to find Visiting Angels. The care givers that help my parents have a deep sense of respect, kindness, and are very thoughtful in offering any suggestions that may help with my parents daily routines. One of the most important values Visiting Angels seems to work towards is making sure the client and the care giver are a good fit. This is incredibly reassuring for us all as a family."
– Aileen Y. (More reviews here)
Rating: 5/5 ⭐⭐⭐⭐⭐