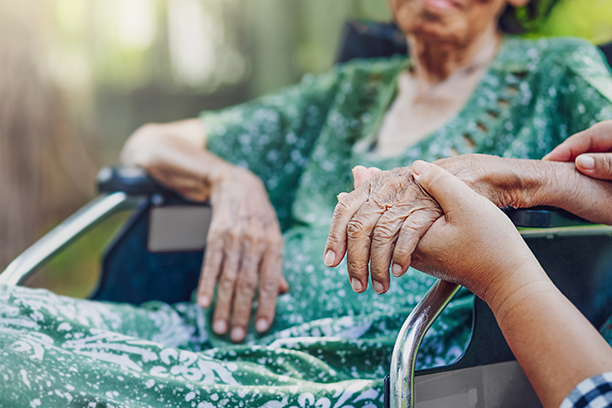 Reviews for Visiting Angels Frederick
For over 21 years, Visiting Angels Frederick has been providing personalized, one-on-one elderly care at home in Frederick, Middletown, New Market, Walkersville and surrounding communities in Frederick County, MD. We've been a trusted name in the home care industry because we put the needs and well-being of our clients first.
But don't take our word for it; hear what our clients have said about our services!
Reviews from Seniors and Families in the Frederick, MD Area
"We had two staff members visit my home over the period of six days to help with the care of my 99-year-old mother at my home. Both were wonderful. They were so patient with her and wanted to do anything that would make her comfortable. This was the first time ever that she has had an outside assistant and mother appreciated each of them. i especially appreciated that one of our Angels was willing to work on a Saturday night so i could attend a graduation party. Our first experience with Visiting Angels has been a very good one."
- Neil G.
"I first encountered Visiting Angels Frederick when they began caring for my ailing grandfather. They were so kind and compassionate and created a resource that allowed my grandfather to maintain his pride and dignity around his family as his health declined, and they handled his personal care. Since that time, I have been fortunate enough to work with the wonderful staff at Visiting Angels and cannot speak highly enough about their warm nature and professional demeanor."
- Nicole M.
"I have had the BEST experience with Visiting Angels and the care of my 89-year-old mother. Specifically, Cherish has been with us for almost 10 months and she has been a godsend. She has become an integral part of our lives and I honestly do not what we would do without her. She is caring, courteous, and kind. She has been the perfect companion and helper for my mom. Thank you, Cherish and the other Angels, for bringing so much joy and comfort into our lives. I would recommend Visiting Angels in the highest regard."
- Meredith Y.
"Janice, Barb, Belinda, and other Visiting Angels of Frederick, I just wanted to take a moment to thank you for all that you've done and that you are continuing to do for my parents. From Day-1 you've been there for us and the constantly changing scenarios that we've faced. You are patient, accommodating, and reliable. You go above and beyond expectations and treat my family like yours. Thanks for helping us through long nights, the doctor visits, and even just the day-to-day. (Let's not forget about all of the cookies and baked goods either!) Keep up the great work!"
- Andy J.
"I highly recommend Visiting Angels. My family and I have been working very closely with the office and nursing staff for the past year. They have been very kind and compassionate towards my mom and our family. Keep up the good work."
- Beth M.
"I cannot thank Visiting Angels enough for all the help they gave my family during my mom's care. The first time I called it was an emergency since I needed to set-up service for my mom who was unexpectedly coming home early from the hospital and we needed help taking care of her. From that first phone call to more than 6 months of care Visiting Angels and their numerous wonderful caregivers gave our family and my mom wonderful care and compassion. My mom enjoyed her different caregivers and was especially fond of one in particular that mom grow to adore and considered her part of the family. I never had problems scheduling regular or emergency visits. The office staff was wonderful to work with. My mom passed away at the end of April 2018 and we will always be grateful for the care and help by Visiting Angels. We will have to be getting care for my dad soon and we will definitely be using Visiting Angels again. Thanks to Visiting Angels for being there for our family."
- Shari S.
"We have been very satisfied with Visiting Angels. Janice and the office staff have all been kind, responsive, and supportive. The caregivers have treated my mother with respect and care, often going beyond what we would expect. I would (and have) recommended Visiting Angels to friends and family!!"
- Colleen L.
"Visiting Angels was a Godsend when my husband, Tony, was in hospice care for terminal cancer. I thought that they would just help him with his needs but they helped me too. They cooked meals, did laundry, ran errands, and were there for me for emotional support until he passed. I highly recommend this company."
- Connie D.
"Visiting Angels is an excellent company that took great care of my father and worked with our schedule. One of their caretakers (Cindy) was truly a Visiting Angel and often sang songs for my father while caring for him which was very sweet and cheered him up!!! Truly a blessing that someone cared for his emotional needs as well as his physical needs!!!"
- Robert K.
"Visiting Angels has been helping an elderly family member for several months, with daily companion care visits and twice-weekly medication management service. I am extremely happy with the quality of service! My elderly loved one really enjoys the visits, and I have the security of knowing that there is a friendly face and help with daily housekeeping, shopping, or just daily life whenever it's needed. Also, Anna Ellis and the caregivers are wonderful with communication - they are only an email or phone call away and always respond right away. My sibling and I also get updates and alerts regularly, which is a real help. The service is fairly priced, and there are no "surprises" on the bill. Anna and her team have done everything they promised and more. I highly recommend Visiting Angels of Frederick."
- Ingrid P.
"Fabulous beneficial services at a reasonable rate for how long and how often you need them!"
- Chris C.
"I used Visiting Angels. They were very good, expedient, worked well around the house, took care of my needs quite well, and they were pleasurable company as well. They didn't require a deposit, which I appreciated, and they would send me an invoice and I would just pay it as they arrived. They came in, did exactly what they said, and they billed exactly as they said they would. I had no problems with them."
- Lynne
"Basically, Visiting Angels are feeding my stepmom and bathing her and everything else. It's a lot cheaper than her being in a home. They came highly recommended, seemed to know what they were doing when I interviewed them, and had been in a situation before taking care of somebody with Alzheimer's. The caregivers are great and really good with her. I'd recommend them to anybody. They really do a great job."
- Bob
"We have been so lucky to find Visiting Angels. The caregivers that help my parents have a deep sense of respect, kindness, and are very thoughtful in offering any suggestions that may help with my parents' daily routines. One of the most important values Visiting Angels seems to work towards is making sure the client and the caregiver are a good fit. This is incredibly reassuring for us all as a family."
- Aileen Y.
"Excellent service, easy scheduling, and customized care."
- James S.
"Visiting Angels has been assisting my mother for several months now. Each Angel has been kind, patient and caring while assisting with her needs. She utilized companion care and they take her shopping, to get her hair done, and basically just help her to maintain some independence with her daily routines now that she is not driving. I would recommend Visiting Angels to those just need a little more care."
- Kristin D.
"Visiting Angels was very responsive to setting up care, and we've been very pleased with the care provided by Dorrial, to include one unexpected instance of our loved one having to go from her assisted living home to the hospital for the day and Dorrial was by her side the whole time!"
- John F.
Serving Frederick, Middletown, New Market and surrounding areas in Frederick County
Visiting Angels
FREDERICK, MD
1003 W 7th St #310
Frederick, MD 21701
Phone: 301-418-6172
R2176