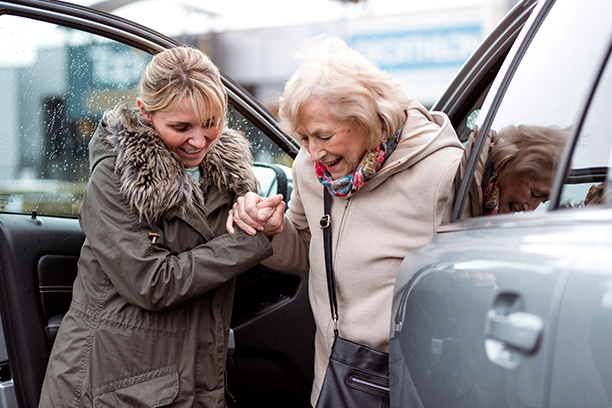 Palliative Care for Seniors in Frederick, MD and Surrounding Areas
Your elderly loved one may need in-home care in order to remain independent if they are dealing with a chronic illness or disease. Families often provide frequent assistance with common tasks to elderly relatives who live on their own. Seniors who are ill, however, often need emotional support and consolation in order to keep their spirits up and go on with their daily lives.
Fortunately, Visiting Angels Frederick provides palliative care for seniors that can enable your loved one get not just physical assistance with everyday tasks, but also the comfort and support of a compassionate caregiver. With the help of our in-home caregivers, seniors in Frederick, Middletown, New Market and throughout Frederick County, MD may live independently for as long as possible, without worrying about leaving the comfort of their own homes.
What is Palliative Care?
The phrase "palliative care" comes from the Latin word palliare, which means "to cloak," and is a service that focuses on providing pain relief and emotional support to someone suffering from a chronic illness. It's similar to hospice care, but unlike hospice care, which is often reserved for patients with a six-month or fewer prognosis, palliative services are made accessible to everybody regardless of life expectancy.
How Do Seniors Benefit from Palliative Care?
If an elderly family member or friend has been dealing with a chronic condition for some time, you know how important it is to provide a hand with daily tasks. But your loved one will benefit most from more extensive, hands-on care. Your loved one's mental and social health may also be affected by their chronic illness. Palliative care fills in the gaps by taking care of your loved one's social, emotional and spiritual needs, in addition to their physical needs.
How Can Palliative Care from Visiting Angels Frederick Help My Loved One?
Palliative care from Visiting Angels Frederick is individualized to meet the needs of each and every senior in our care. Because our in-home caregivers are trained and certified in non-medical palliative care, they are able to offer the all-encompassing in-home senior care our clients need to live comfortably and happily. This has earned us the trust of many families in Frederick County.
Our caregivers will focus on:
Physical needs
Making sure your loved one's physiological needs are met is essential to their comfort. This may include checking in with them during the day to see if they need anything or helping them with personal care tasks, as well as making sure they have clean clothes to wear and that they are well fed.
Emotional needs
Helping seniors have fun while maintaining a focus on what's important to them is one of our primary goals at Visiting Angels Frederick. This might include doing things like helping your loved one get ready for the day and engaging them in their favorite pastimes.
Social needs
Our in-home caregivers can fulfill your loved one's need for social interaction by promoting participation in social activities and avoiding feelings of solitude and alienation by doing so. This might include providing stimulating conversation and companionship, or helping your loved one stay in touch with friends and family through our Social Care program.
Spiritual needs
Helping our clients regain hope and calm their nerves is one of our main goals. One way our in-home caregivers do this is by empathetically listening to their concerns and developing strong, enduring relationships with them.
Schedule a free in-home consultation by calling our Frederick, MD office at 301-383-8807.
Serving Frederick, Middletown, New Market and surrounding areas in Frederick County
Visiting Angels
FREDERICK, MD
801 Toll House Ave #A3
Frederick, MD 21701
Phone: 301-383-8807
R2176