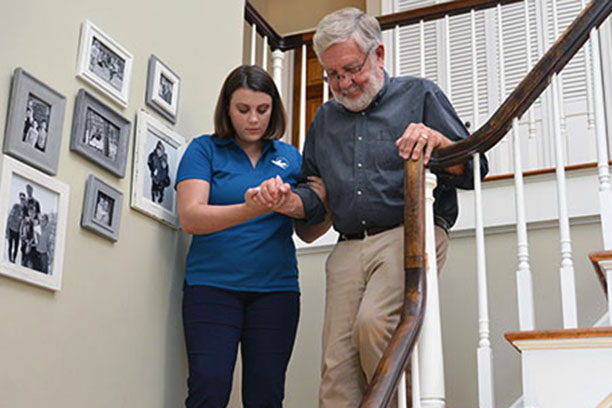 Fall Prevention for Seniors in Frederick, MD, and Surrounding Areas
If you have an elderly parent or relative who lives independently, it's easy to worry about their safety and well-being. One thing that many families worry about is falling. Seniors can be more prone to fall-related injuries due to limited mobility, weakened muscles, reduced vision and many other factors. When a senior loved one wishes to age in place at home, it's essential to make sure they have the support they need to stay safe and avoid falling.
Seniors in Frederick, Middletown, New Market and throughout Frederick County may benefit from Visiting Angels Frederick's Safe and Steady fall prevention program designed to reduce the risk of falls in the home. Our home care options can lessen the likelihood of sustaining a fall-related injury by taking steps to prevent our clients from falling. Because of the prevalence of these injuries among the elderly, preventing falls is a crucial element of aging in place.
Our goal is to ensure that our elderly clients age in place, in the environment where they feel most secure and content. Because of this, we place a significant emphasis on the prevention of falls.
The Importance of Fall Prevention for Seniors in Frederick County
About one-third of all seniors will have a major fall each year, making them more vulnerable to injury from falls than the rest of the population. When falling, the consequences for the elderly are often far more severe. Many of these injuries may cause permanent disability or even death.
In particular, hip fractures pose a serious threat. A hip fracture can take up to a year to heal, may require transitional care, and has a high risk of complications that could be life-threatening. Most elderly people who have a hip fracture never completely heal, and as a consequence, many elderly people have to give up their independence.
The good news is that most falls can be avoided. Many common causes of falls among seniors can be prevented with professional home care options.
There are numerous common risk factors for fall-related injuries among elderly adults, including:
Decreased strength
Poor coordination
Limited mobility
Reduced eyesight
Hearing loss
Stiff or painful joints
Health complications
Cognitive disorders
Side effects from multiple medications
How Home Care Options from Visiting Angels Frederick Can Help Your Loved One
Seventy-five percent or more of all serious falls happen in or around the house. That's why it's so important to consider professional home care options for an elderly loved one; doing so may avoid the vast majority of falls. Our Safe and Steady fall prevention program at Visiting Angels Frederick may help lessen the likelihood of a slip, trip, or fall occurring in your loved one's home.
Our home care options can reduce your loved one's risk of falls in a number of ways, including:
By helping with light housekeeping, our caregivers can declutter walkways and reduce the chance of tripping over things on the floor


With mobility assistance, we can help your loved one get out of bed and get from room to room safely


We can prepare meals to keep up your loved one's strength


Our caregivers can help your loved one get in and out of the bath tub, which is a common place for falls


We can remind your loved one to take their medication when needed and watch out for any side effects that could impact their coordination or balance
If your loved one needs more specialized care, our caregivers are more than happy to help. We also offer wandering prevention for seniors with dementia, 24-hour care for seniors who need an more advanced level of care and so much more. You can count on the team at Visiting Angels Frederick to keep your loved one safe and help them live out their golden years at home on their own terms. Our home care options can be personalized based on your loved one's needs and schedule, meaning they can get the fall prevention solutions they need when they need them most.
Ready to get started with fall prevention?
Call our Frederick, MD, office at 301-418-6172 to learn how we can help your loved one!
Serving Frederick, Middletown, New Market and surrounding areas in Frederick County
Visiting Angels
FREDERICK, MD
801 Toll House Ave #A3
Frederick, MD 21701
Phone: 301-418-6172
R2176
Download our free "Safe & Steady Fall Prevention Resource Guide" today.