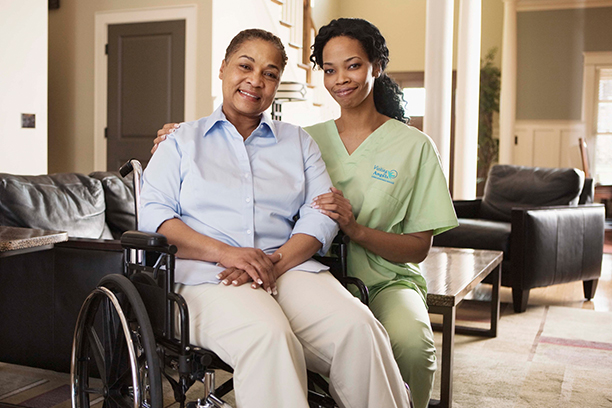 Reliable Home Care Services for Seniors in Middletown, MD
Are you looking for professional home care services for a loved one in Middletown, MD? Visiting Angels Frederick provides quality care at home to help seniors throughout Frederick County feel more at home and live better lives with the assistance of a qualified professional caregiver.
Our caregivers' main purpose is to help improve your loved one's quality of life while assisting with daily activities. Our home care providers will provide your senior with quality time, along with the support and respect that they need and deserve.
Call 301-418-6172 today to learn how we help seniors in Middletown, MD.
What Home Care Services Are Available for Seniors in Middletown, MD?
Visiting Angels Frederick specializes in in-home care, as well as personal care and assisting seniors with daily activities. Our team will visit your loved one on a frequent basis, providing you with peace of mind that your loved one is receiving the care that they deserve.
Furthermore, if any questions or concerns arise, our team is always available. We ensure that each client receives a personalized care plan that is integrated into your senior's everyday life.
Our senior care services include the following:
Personal Care Assistance - Assisting seniors with bathing, grooming, dressing, eating, medication reminders and other responsibilities.


Housekeeping - Cleaning, laundry, grocery shopping, dinner preparation, transportation, errands, light housekeeping and yard work


Transportation Assistance - Allow our caregivers to take your loved one to doctor's appointments, shopping trips, social events and family reunions.


Companion Care - Providing companionship, emotional support, friendship and socialization in order to promote your elderly loved one's health and well-being.


Long-Term Care - We offer long-term support for seniors who struggle with independent living at home due to chronic illnesses or advanced age-related issues.
Why Families in Middletown Choose Home Care from Visiting Angels Frederick
We understand how difficult it can be to make decisions about a loved one's health and well-being. We understand what it means to be able to provide your senior with the highest possible quality of care at Visiting Angels Frederick, which is why we are committed to offering great home care services at fair costs. Our caregivers are dedicated to assisting seniors in maintaining their independence by offering the most effective and suitable degree of care for each situation.
Here are some of the reasons why other Middletown, MD families have selected Visiting Angels Frederick for their in-home care needs:
We're Local
Visiting Angels Frederick has been providing in-home care for over 21 years. We are committed to assisting elders in their daily activities while leaving a lasting impression on their lives. We encourage our seniors to participate in social events with the help of our caregivers.
Visiting Angels caregivers go the extra mile to provide companionship and engage in your senior's favorite activities, whether it's strolling through the new Heritage Park for a quick outside excursion or locating a nice book at the Middletown Public Library.
We Only Hire Great Caregivers
We understand how difficult it is to entrust the care of a loved one to a stranger. As a result, we only hire caregivers whom we would trust to care for our own family members. Each employee is subjected to comprehensive screenings, background checks and a series of interviews before employment. We exclusively hire professional caregivers who share the same values and mission that we do.
Compassion, commitment, devotion and patience are the cornerstones of the service we deliver at Visiting Angels Frederick, ensuring that it is consistent with the ideals of our caregivers. We ensure that our in-home care providers will create a bond with your senior by matching them based on personality, schedule and service requirements.
We Offer Personalized Home Care
Many other local agencies in Middletown offer "one-size-fits-all" home care services. Visiting Angels Frederick, on the other hand, develops a customized plan for each senior based on their schedule, degree of care needed and a variety of other considerations. We want to make certain that your loved one is receiving the attention and care they deserve.
A one-of-a-kind profile of your loved one's present condition is developed and used as a guide to develop a personalized care plan. Seniors who require regular monitoring or assistance with personal hygiene may be visited more frequently by Visiting Angels caregivers. After reviewing our profile and learning more about us, you'll be confident that we're the appropriate fit for you and your family.
Our caregivers at Visiting Angels Frederick are here to assist seniors in and around their homes in Middletown, MD. Our caregivers will assist your senior in maintaining a comfortable and independent living in their own home by assisting them with daily duties, self-care, mobility and more.
Please contact 301-418-6172 or fill out our form if you have any further questions or would like to schedule a consultation.
Serving Frederick, Middletown, New Market and surrounding areas in Frederick County
Visiting Angels
FREDERICK, MD
801 Toll House Ave #A3
Frederick, MD 21701
Phone: 301-418-6172
R2176