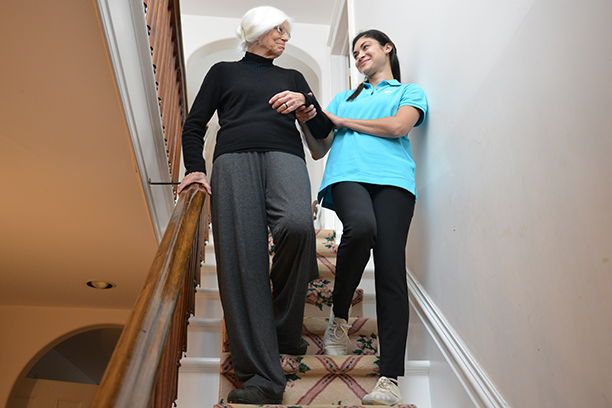 Transitional Care from Senior Caregivers in the Frederick, MD Area
If your senior loved one is hospitalized, it is important to lower their chance of readmission. A senior's loss of autonomy and quality of life frequently begins with their first hospitalization and continues through a never-ending cycle of health problems and readmissions.
But this cycle doesn't have to keep happening. Your loved one's chances of achieving a full recovery and lowering their risk of readmission can be improved with the Ready-Set-Go Home program from Visiting Angels® Frederick. For over 21 years, our senior caregivers have helped elderly and disabled adults in Frederick, Middletown, New Market and throughout Frederick County, MD safely return home after being discharged and assisted with everyday tasks so they can focus on recovering.
"I cannot thank Visiting Angels enough for all the help they gave my family during my mom's care. The first time I called it was an emergency since I needed to set-up service for my mom who was unexpectedly coming home early from the hospital and we needed help taking care of her. From that first phone call to more than 6 months of care Visiting Angels and their numerous wonderful caregivers gave our family and my mom wonderful care and compassion. My mom enjoyed her different caregivers and was especially fond of one in particular that mom grow to adore and considered her part of the family. I never had problems scheduling regular or emergency visits. The office staff was wonderful to work with. My mom passed away at the end of April 2018 and we will always be grateful for the care and help by Visiting Angels. We will have to be getting care for my dad soon and we will definitely be using Visiting Angels again. Thanks to Visiting Angels for being there for our family."
- Shari S.
What Causes Hospital Readmissions for Seniors in Frederick County?
Rehospitalization is a significant problem among the elderly, as roughly one in five Medicare recipients over the age of 65 are readmitted to the hospital within 30 days after their first release. Fortunately, if you and your loved one take a calculated approach to discharge and recovery, you may lessen the likelihood of a readmission and speed up your loved one's road to health and independence.
For various reasons, some patients may need to be readmitted to the hospital. However, a common trend does appear among the elderly. Most elderly people report feeling weaker and less energized than normal after returning home from the hospital. Even routine tasks that used to come easily to them may now be challenging. The likelihood of readmission can be even higher for seniors who are also dealing with symptoms of a chronic illness or cognitive issues that can make them forget recommendations from their healthcare team.
Without the help of loved ones or a professional senior caregiver, seniors are more likely to put their own needs last and disregard their doctors' orders as they try to get well. Because of this, they deteriorate and develop issues that require readmission to the hospital.
How Our Senior Caregivers Help with Transitional Care in Frederick County
Seniors in Frederick County can get the support they need while recovering at home with in-home supportive services from Visiting Angels Frederick. Seniors may relax in their own homes while receiving quality in-home care from our senior caregivers, who will also assist them in following any necessary medical regimens. We can help increase your loved one's chances of recovery and decrease their probability of readmission to the hospital.
If an elderly family member has just been hospitalized, Visiting Angels Frederick may help ease the transition back home. Our caregivers are available to aid patients in their recovery after hospital release. By doing so, we lessen the likelihood that they may develop major issues as a result of being too exhausted.
When your loved one returns home, our senior caregivers can assist with household tasks like laundry and running errands so your loved one doesn't have to exert themselves. In addition, we can help keep them on track with their medication regimen by reminding them when it's time to take each dose at the appropriate times throughout the day. We provide meal planning and preparation services to assist your parent maintain strength and health, even if they need to follow a special diet. We'll also provide personal care services like help with bathing and getting dressed so your loved one doesn't have to worry about developing skin and health issues because they have trouble taking care of themselves. If your loved one needs to go to follow-up appointments or physical therapy, we can safely get them to back from their destination.
We will coordinate our in-home supportive services around your loved one's discharge plan and monitor their status constantly to spot symptoms of relapse as soon as possible.
With the Ready-Set-Go Home program from Visiting Angels Frederick, you can have peace of mind knowing your loved one is in good hands. A compassionate senior caregiver will be by your loved one's side to assist with everyday tasks, aid in their recovery, provide meaningful companionship and so much more.
Call our Frederick, MD office at 301-418-6172 to schedule a free in-home consultation!
Serving Frederick, Middletown, New Market and surrounding areas in Frederick County
Visiting Angels
FREDERICK, MD
801 Toll House Ave #A3
Frederick, MD 21701
Phone: 301-418-6172
R2176