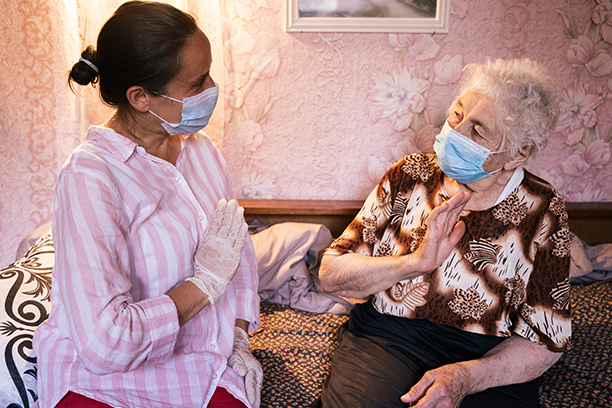 How Transitional Care in Frederick Reduces Hospital Readmissions
Ready-Set-Go Home with Transitional Care
If your loved one is admitted to the hospital and they are in the senior age group, it is crucial to reduce their risk of a readmission following their discharge. Being admitted to the hospital is often the beginning of a cycle of health issues and readmissions that results in a loss of independence and quality of life. However, this cycle is not inevitable. The transitional care services provided by the compassionate care providers at Visiting Angels® Frederick can help your loved one reduce their risk of a readmission and increase their chances of making a successful recovery.
What Causes Readmissions in Frederick?
The factors that lead to a hospital readmission can be different for different individuals. However, there is a pattern that often emerges among older adults. Seniors often find they feel weaker and less energetic than usual when they return home from the hospital. They may even have trouble doing things that once felt like second nature. When they lack support from family members during the recovery process, they can neglect their own well-being and skip important steps in their physicians' instructions. As a result, their condition declines and they endure complications that require rehospitalization.
How Our Transitional Care Program Helps
As almost one in five elderly adults on Medicare are readmitted to the hospital within the 30 day window of their initial discharge, rehospitalizations are a common issue among seniors. Fortunately, taking a strategic approach to discharge and recovery can minimize your loved one's readmission risk and help them regain their independence as they get back into the groove of their daily routine.
Our transitional care program at Visiting Angels Frederick is named Ready-Set-Go Home because it includes customized support for seniors both before they leave the hospital and after they return home. We make a point of beginning the care process before the senior's discharge to help pave the way to a smooth and efficient transition back to life at home.
After the care recipient is discharged, a professional care provider will conduct home visits and deliver customized services throughout the recovery process. Our caregiving team is ready to offer medication reminders, arrange transportation to follow-up appointments, cook, help seniors bathe, and more.
Regain peace of mind about your loved one's ability to recover following their hospital stay. Contact Visiting Angels Frederick today to request a free transitional care consultation in Frederick, Jefferson, Middletown, Urbana, Walkersville, Woodsboro, or a town in the surrounding areas.
Serving Frederick County
Visiting Angels FREDERICK, MD
801 Toll House Ave #A3
Frederick, MD 21701
Phone: 301-418-6172
R2176