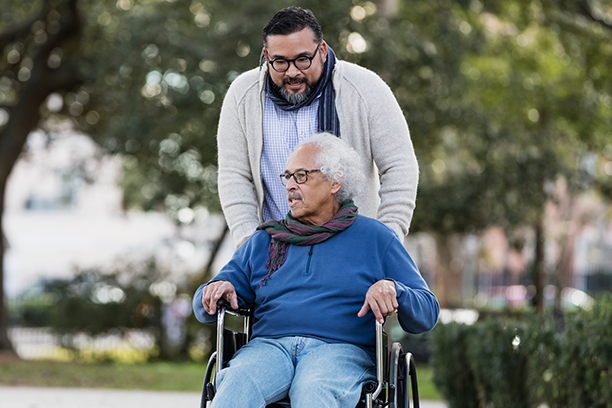 Frequently Asked Questions About Alzheimer's Disease and Alzheimer's Care Options in Gaithersburg, MD and Surrounding Areas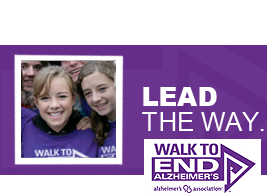 Visiting Angels can answer your questions about Alzheimer's disease, including common symptoms, risk factors and options for Alzheimer's care in Gaithersburg, Potomac and surrounding areas in Maryland
If your loved one has been diagnosed with Alzheimer's disease, you probably have a lot of questions about their condition. Take a look at our FAQ about Alzheimer's and learn more about the disease and how to find the right Alzheimer's care option for your loved one.
What is Alzheimer's disease?
Alzheimer's disease is a degenerative, progressive disorder of the brain, meaning that the symptoms of the condition worsen over time. Approximately 5.5 million Americans live with Alzheimer's disease, with the majority of those diagnosed with the condition being over 65 years of age.
What is the average life expectancy with Alzheimer's disease?
After getting an Alzheimer's diagnosis, most people have a life expectancy of 4 to 8 years, though some people live up to 20 years after the initial diagnosis. Alzheimer's disease is the sixth leading cause of death in the United States.
What is the difference between Alzheimer's and dementia?
Dementia includes many brain disorders that affect memory. Alzheimer's disease is the most common type of dementia, with up to 80 percent of all dementia patients actually suffering from Alzheimer's.
What are the risk factors for Alzheimer's?
While the cause of Alzheimer's disease is still unknown, there are many risk factors for this condition, including:
Advanced age – in most cases, the symptoms of Alzheimer's appear after 65 years of age
Genetics – people with a family history of Alzheimer's are more likely to develop the condition
Heart health – people with cardiovascular problems are at a higher risk of developing Alzheimer's
What are the symptoms of Alzheimer's?
According to Alzheimer's care experts, the most common symptoms of the condition are:
Memory loss, both short-term and long-term
Difficulty solving simple, routine problems
Trouble performing daily activities
Forgetting or mixing up words
Confusing names, identities, places
Losing items or getting lost
Acting confused, irritated, irritable or depressed
How does Alzheimer's disease progress?
In the beginning, the symptoms are mild and do not have a big impact on a person's health, well-being or routines. As Alzheimer's progresses, the symptoms become worse and worse – to the point that the person may completely lose memory, ability to perform everyday activities, and ability to speak and understand others.
Does Alzheimer's disease have a cure?
Unfortunately, there is still no known cure for Alzheimer's disease. However, it is possible to slow down the progress of the condition.
What are my options for Alzheimer's care in Gaithersburg and surrounding areas?
When you are no longer able to take care of your loved one with Alzheimer's disease, you can either move him or her to a memory care facility or hire professional caregivers to provide in-home care.
For Alzheimer's patients, being able to remain in the comfort of their home is a much better option as any changes in surroundings or routine can worsen the symptoms of the condition. With Visiting Angels Gaithersburg, your loved one can get personalized care at home and you can have peace of mind that they are safe and comfortable at all times.
Give us a call today to learn more about our Alzheimer's care services and how we can help your family!
Serving Gaithersburg, Germantown, Potomac, and the Maryland Suburbs
Visiting Angels
GAITHERSBURG, MD
971A Russell Ave
Gaithersburg, MD 20879
Phone: 301-355-6578