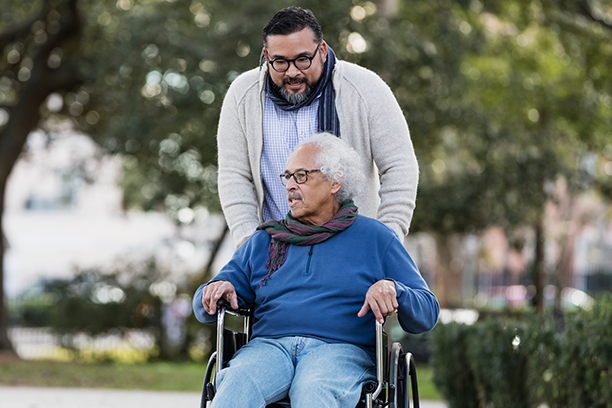 Transitional Care: In Home Help After a Hospital Stay
The Ready-Set-Go Home program is designed to provide the in home transitional care services needed to create a smooth transition back home and prevent hospital readmission for seniors in Gaithersburg, MD.
At Visiting Angels Gaithersburg, we developed the Ready-Set-Go Home program because we were aware of how badly in need seniors across the country were for a quality transitional care program. Just like the rest of our home health care services, Ready-Set-Go Home is designed to help seniors maintain their independence without having to compromise their safety. Our three-pronged approach reduces hospital re-admissions, which present a major risk for seniors after they are discharged from the hospital.
The Causes and Consequences of Hospital Readmission
The statistics are very disheartening. According to recent research, one in five of seniors on Medicare end up back in the hospital within a month after being discharged. The fact is that older adults, who may be frailer than the rest of the population, are prone to ending back up in the hospital much more often than others.
Hospital re-admissions are so prevalent in the senior community because they are not able to take care of everything they need to at home, forcing them to compromise on certain parts of their rehabilitation. For example, a senior may ignore dietary doctors' recommendations because they are not strong enough to prepare meals on their own. Instead, they choose to order in, opting for unhealthy, fatty, oily, cheaper options. As you can imagine, this will have a negative impact on their overall health.
As we get older our bodies change and in senior years they do not recover as quickly as they used to. Older adults have a harder time fighting off colds, they bruise easily and it takes them longer to recover from simple injuries. If your senior loved one is recovering from surgery, it may take them weeks or even months to get back on their feet.
Since they will most likely need extra help during this period, you should consider in-home care services. With our experienced and dependable caregivers, seniors in Gaithersburg, MD and surrounding areas, can recover from surgery in the comfort of their home
How Our Home Care Services Help Seniors in Gaithersburg and Surrounding Communities Recover
Older adults who are recovering after surgery most often need help with even the simplest daily tasks, such as meal preparation, housekeeping or bathing. We understand that every senior has different needs, which is why we offer personalized care plans. Before we start providing care, we will visit your loved one, learn about their care needs and create a personalized care plan based on their situation.
At Visiting Angels Gaithersburg, we offer various home care services, such as:
Meal Preparation: During their recovery, your loved one will have access to nutritious meals. Our home care providers can go shopping, assist with meal preparation and make sure your parent maintains a well-balanced diet.

Mobility Assistance: With help from our home health care providers your loved one will be able to move safely around their house, without putting their recovery at risk.

Bathing and Grooming Assistance: Our caregivers can help your loved one with maintaining personal hygiene by assisting them with bathing, grooming, toileting and other personal needs.

Housekeeping: We will make sure that your parent recovers in a clean living environment.

Medication Reminders: We can ensure that your senior takes their medications according to doctor's orders.
We believe that quality home health care starts with making sure we are meeting the specific needs of our client. Every single senior is different and is facing a unique set of challenges. That is why their care plan has to be personalized and suited to their case in particular. Our Ready-Set-Go Home program can be tailored to all seniors, regardless of the challenges they may be facing on a daily basis.
Our caregivers keep our office staff in Gaithersburg up-to-date on our clients' well-being. We will contact you if your loved one's condition changes or if we have any concerns. That way, you can have a second pair of eyes and ears making sure your loved one is fully recovering.
To find out more about our transitional care and see if Ready-Set-Go Home could make a major difference in your loved one's life, do not hesitate, call our Gaithersburg, MD office today!
Serving Gaithersburg, Germantown, Potomac, and the Maryland Suburbs
Visiting Angels
GAITHERSBURG, MD
971A Russell Ave
Gaithersburg, MD 20879
Phone: 301-355-6578