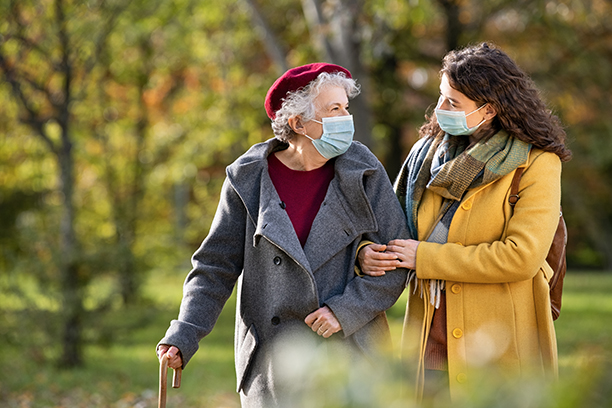 Residential Senior Care Available in Gaithersburg, MD and Surrounding Areas
Our senior care providers offer top-notch care to older adults who live in assisted living facilities in Gaithersburg and the surrounding areas in MD
Visiting Angels Gaithersburg is the best provider of home care services in Gaithersburg, MD, and the surrounding communities, helping not just seniors who wish to remain living at home as they age but also those older adults who live in assisted living facilities or senior living communities and require some additional support from professional caregivers.
Benefits of Additional Care in Senior Living Communities
When families choose to relocate their loved ones to assisted living facilities, they assume that the care provided in these institutions is more than enough for their parents or relatives to lead quality lives. Unfortunately, this is not always the case. Sometimes, families come to realize that their loved ones need additional care due to service inconsistency or complex care needs the institutions are simply not equipped to handle. If your family is in this situation, senior care providers from Visiting Angels Gaithersburg can help.
Some locations where we currently serve clients include:
Brookdale Assisted Living Facility | (301) 765-9198
ManorCare Health Services | (301) 299-2273
The Gardens of Traville Apartments | (301) 762-5224
Ingleside at King Farm | (240) 499-9015
Raphael House Assisted Living | (301) 217-9166
Shady Grove Center | (301) 315-1900
Kentlands Manor | (888) 614-8244
In an assisted living facility or senior living community, your loved one will get assistance from a caregiver who is on schedule that day. With us, however, they will receive support from a care provider assigned specifically to them based on specific skills and experience and compatible personalities. We believe that this makes all the difference when it comes to care quality.
How Our Senior Care Providers Complement Services Provided in Assisted Living Facilities in Gaithersburg and Surrounding Areas
At Visiting Angels Gaithersburg, our goal is to supplement the care provided in residential senior living communities so that your loved one would truly enjoy their senior years to the fullest, being more independent, active, and content on a daily basis.
Our senior care providers can offer the following services for seniors in assisted living facilities or senior living communities:
Loving companionship and support
Meaningful interaction
Overnight monitoring and assistance
Additional post-hospital care
And much more
With us, you will know that your loved one is getting the best possible care no matter how complex their care needs or medical condition are. You can put your mind at ease that your parent or relative is safe and comfortable at all times and that the personalized care they are receiving from us will make a difference in their quality of life.
Call our Gaithersburg, MD office today to learn more about us, our services and our caregivers. We are happy to schedule your free consultation as well. We hope to hear from you soon!
Serving Gaithersburg, Germantown, Potomac, and the Maryland Suburbs
Visiting Angels GAITHERSBURG, MARYLAND
971A Russell Ave
Gaithersburg, MD 20879
Phone: 301-355-6578