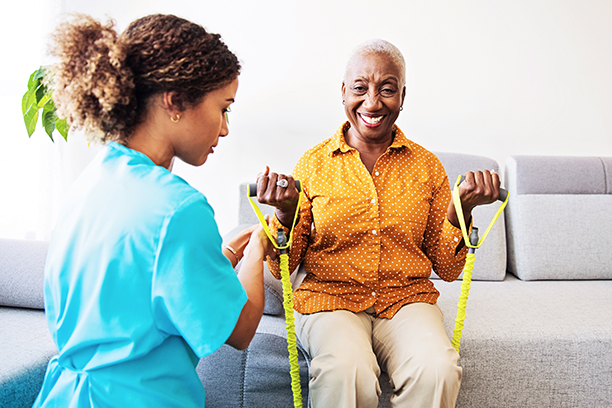 Comforting Palliative Care Services for Seniors in Gaithersburg, MD and Surrounding Communities
Our Certified Palliative Care Program aims to provide holistic comfort to seniors in Gaithersburg, Potomac, Rockville and surrounding areas in Maryland
If your loved one is ill but does not have a very short life expectancy, you may be wondering about the type of home care services they should be receiving. The care your loved one receives should focus on their well-being and comfort, allowing them to age in place in familiar surroundings.
That's why Visiting Angels Gaithersburg has developed the Certified Palliative Care Program. This program focuses on providing comprehensive care and support for seniors in Gaithersburg, Potomac, Germantown, Montgomery Village, Rockville and surrounding Maryland communities. Thanks to our compassionate and experienced caregivers, your loved one will be in capable hands.
Differences Between Palliative and Hospice Care
Generally speaking, many individuals often mix up palliative and hospice care; however, the two are very different. Hospice is for those who are in the final stages of their lives. On the other hand, palliative services focus on improving a senior's physical, emotional, social and spiritual needs, regardless of their life expectancy. If you think your loved one needs care that is focused on their comfort at this time, count on Visiting Angels Gaithersburg.
Although palliative and hospice care are very different, the core of these two types of care are very similar. Both are focused on bringing as much comfort as possible.
At Visiting Angels®, we have developed the Certified Palliative Care Program that has helped thousands of seniors across the country. It is rooted in a traditional model of care and through it we hope to improve seniors' quality of life through a wide range of specialized non-medical senior care solutions.
What is Included in the Certified
Palliative Care

Program from Visiting Angels Gaithersburg

At Visiting Angels, we have a Life Care Navigation™ collection of senior home care services that provide you and your loved one with comforting care and assistance through the end of life process.

Our philosophy of care is to make sure your loved one feels supported, soothed and comforted. This holistic approached has helped many older adults come to terms with the current state of their health and be at peace with their life. We do this by focusing on the physical, emotional, social and spiritual needs of those in our care.

Here's how we provide comprehensive in-home care through this program:
We care for your loved one's physical needs by monitoring them for signs of physical discomfort and responding accordingly
We care for your loved one's emotional needs by providing support and ways to manage feelings of depression, loneliness, stress and anxiety
We care for your loved one's social needs by providing meaningful companionship, enjoying your loved one's favorite activities with them and providing conversation
We care for your loved one's spiritual needs by treating them with the respect and dignity they deserve
Our goal is to help our clients find the comfort they need as they age gracefully in their own home.
To find out more about how our palliative care program could help make a difference in your loved one's life, call our Gaithersburg, MD office today. One of our representatives can come by for a no-obligation, free in-home consultation.
Serving Gaithersburg, Germantown, Potomac, and the Maryland Suburbs
Visiting Angels GAITHERSBURG, MARYLAND
971A Russell Ave
Gaithersburg, MD 20879
Phone: 301-719-5140