How to Make Thanksgiving Easier for Elderly Care Recipients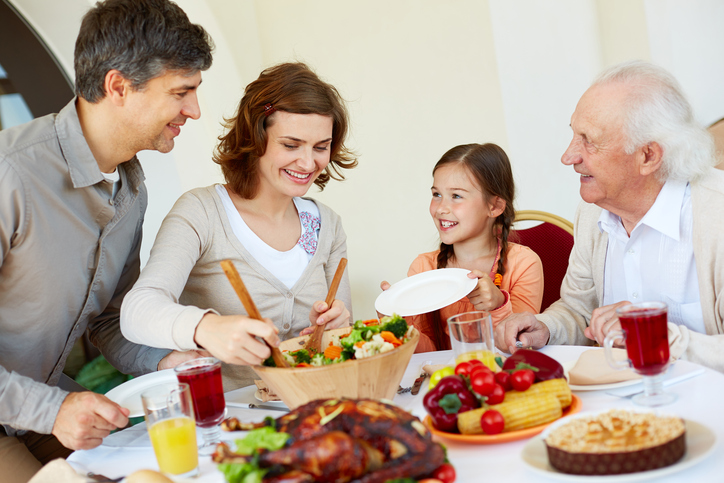 Thanksgiving is a time for family and celebration. But when a member of your family requires elderly care and support, you might worry about whether they're up to a big family event.
At Visiting Angels, our experience as elderly care providers has helped us council our clients and their families about how they can make holidays, like Thanksgiving, more senior-friendly. We hope the following tips and advice will be helpful to you in making your Thanksgiving Day a more enjoyable and less stressful time for you and family members of all ages.
Choose Senior-Friendly Foods
As a traditional harvest celebration, Thanksgiving is a time for feasting with friends and family. But older Americans often have more trouble eating, due to dental health, older taste buds, and chewing strength concerns. If a member of your family requires elderly care, it's a good idea to build parts of your Thanksgiving dinner around what they can and can't eat.
Consider making dishes that are easy to chew and gentle on those with dentures. Also, try to cut back on salt in favor of other seasonings. And if you're loved one has a Thanksgiving favorite that they might have issues chewing — such as turkey — you can help by cutting their food into manageable pieces.
Make Traveling Easier
If you need to travel long distances with an elderly loved one this Thanksgiving, take steps to make sure their ride is a comfortable one.
Seniors are often more sensitive and susceptible to cold, so if you're driving and the weather's a little frosty, consider bringing a blanket. You might want to make sure they are comfortable by offering a support cushion to help with their posture.
Also, make sure you've packed any medications that your loved one might need while away from home.
Schedule Professional Elderly Care
Most elderly care agencies keep caregivers available throughout the year, including over holidays like Thanksgiving. If you think that your loved one would benefit from having an elderly care provider with them for the holiday, speak with their agency about scheduling care. Having a professional caregiver around for Thanksgiving can help you ensure your loved one is looked after, giving you the chance to spend your day enjoying your time with the whole family.
"Professional elderly care can be a big help over the holidays," says Larry Meigs, President and CEO of Visiting Angels. "As elderly care providers, it's important to us that your family — and your loved one — are able to get the most out of your Thanksgiving."
Visiting Angels elderly care providers help seniors across the United States by offering in-home care and support. To connect with the Visiting Angels agency in your area, call us today.
If you're interested in our compassionate
home care
services for you or a loved one, contact your nearest Visiting Angels
home care agency
today or call 800-365-4189.