How to Choose the Right Mobility Aid
Growing older comes with its fair share of difficulties. One of the most common is trouble with mobility. As we get older, we tend to lose muscle mass and develop problems with our joints. For many seniors, this results in difficulty walking. When this happens, many seniors turn to a mobility aid, such as a cane, a walker, or a wheelchair. If your loved one is finding walking difficult, you might be struggling with how to choose the right mobility aid.
To help, the team at Visiting Angels has put together this guide to how to choose the right mobility aid. We've outlined the different kinds of mobility aids you might be considering, how you can assess a loved one's mobility needs, and how you can budget for different types of mobility aids.
Types of Mobility Aids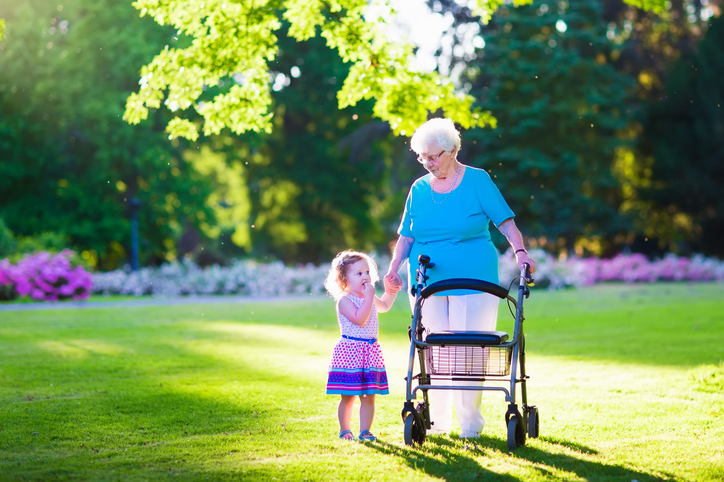 As recently the 1980s, seniors had a limited number of mobility aids to choose from. But with the invention of the rollator and powered mobility aids over the last few decades, the number of mobility aids to choose from has increased significantly. Here are the three categories of mobility aids you might be considering:
Walking Assistance Aids
These types of devices are for seniors who still have the ability to walk, but who require assistance or support to do so. This category covers:
Canes. Canes can provide help with balance and relieve pressure on joints for seniors with light to moderate walking difficulties.
Quad Canes. A quad cane provides greater stability for seniors with light to moderate walking difficulty, but who require a little extra balance than a single-point cane.
Walkers. A walker (without wheels) provides greater stability than a cane but can be difficult to move compared to a wheeled walker.
Walkers with Wheels. A walker with wheels offers excellent stability and is easier to move than a non-wheeled walker.
Rollators. Rollators, which are wheeled walkers with hand brakes and seats, are currently the most popular mobility aid. They offer a high level of stability, ease of use, can double as a seat if the user becomes tired, and often contain a basket for holding everyday items.
Wheelchairs
A wheelchair is necessary when it is too difficult or dangerous for a senior to walk on their own. Non-powered wheelchairs require moderate upper body strength for operation, so seniors who use wheelchairs will most often need assistance from a family member, friend, caregiver, or nurse in order to move about. Seniors may opt for a powered wheelchair for greater mobility and autonomy. Powered wheelchairs are more costly, but offer greater autonomy and are great for indoor areas.
Scooters
In recent years, scooters have become popular among seniors with mobility difficulties. Scooters are electrically powered, so seniors with limited strength can still move about on their own. Scooters are capable of covering a wider range of terrain than powered wheelchairs but have more trouble in tight areas. Because of their large footprint and wider turning radius, scooters can be an imperfect solution for seniors who require mobility assistance at home.
Assessing Mobility Needs
Choosing the right mobility aid will depend on your loved one's specific difficulties and needs. The simplest and best way to do this is to speak with your loved one. No one will have a better sense of their mobility difficulties and which mobility aids they'll feel most comfortable using. It is also a good idea to involve your loved one's physician in this conversation.
We also recommend testing different mobility aids when possible. Many stores offer the chance to test a range of mobility aids before purchasing. If your loved one is unsure whether a cane or a rollator would be better for his or her needs, have him or her try each out to find out which they're more comfortable with.
Budgeting for Mobility Aids
Depending on your loved one's mobility concerns and insurance coverage, you may be covered for all or part of the costs for a mobility aid purchase. It's important to note that coverage varies among providers and that you will — at the very least — require your loved one's physician to sign off on the mobility aid in question. For custom mobility aids or higher priced models, your loved one may need to meet with an occupational therapist. Keep in mind that you will only be covered for what your insurer believes your loved one needs, not necessarily what is most comfortable or convenient.
If you are paying out of pocket for a mobility aid, you will want to match your choice to your budget. Canes usually fall in the $15 to $25 price range. Meanwhile, a quality walker or rollator can cost anywhere from $40 to upwards of $200, depending on the features, quality of construction, and materials. If you're considering a powered wheelchair or a scooter, expect a price tag starting at $1000, with a cost of $2000 to $4000 for higher quality models.
If your loved one is suffering from mobility difficulties, you may wish to consider non-medical home care from your local Visiting Angels. Our caregivers can provide mobility assistance and monitor your loved one in case of falls or other mobility-related issues. Contact your local office today for a free care consultation.
* This article is for information purposes only and should not be viewed as a recommendation or as advice on when to choose mobility devices. If you are concerned about your loved one's ability to maintain their balance, their need for mobility aids or for their health in general, please contact their physician. Visiting Angels provides non-medical care and does not provide recommendations on the type of mobility devices needed or endorse any specific mobility devices.
If you're interested in our compassionate
home care
services for you or a loved one, contact your nearest Visiting Angels
home care agency
today or call 800-365-4189.