Mother's Day Advice & Gift Ideas for Caregivers
Mother's Day is one of the most treasured holidays on our calendar. But for many, Mother's Day can also be a stressful time. After all, we all want our mothers to know how much we appreciate them, and it can sometimes feel like no gift or gesture will be up to the task.
As America's choice in home care for nearly 20 years, the team at Visiting Angels knows how important Mother's Day can be, especially if you are a mom caring for your elderly mother while attending to your own family and personal needs. Below, we outline some winning ideas that caregivers can use to Mother's Day special.
Time is More Valuable Than Gifts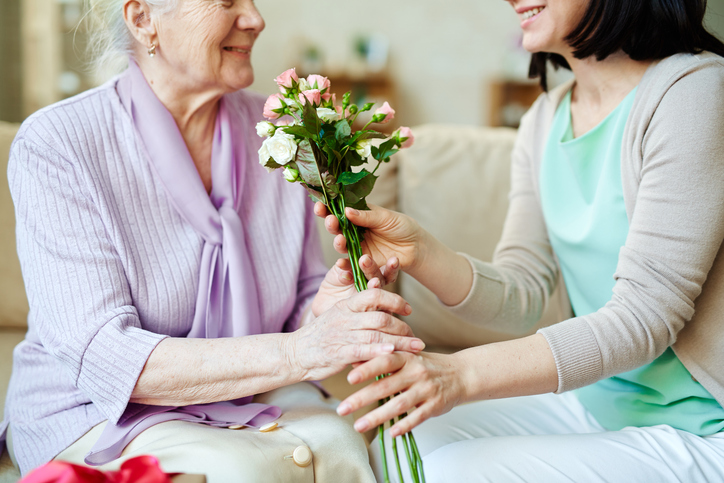 When Mother's Day comes up on the calendar, most people's first instinct is to place an order for flowers and pick up a card. But while gifts can play an important role on Mother's Day, the time you spend with your mom on her special day will be more valuable than the money you spend on almost any gift.
According to a recent survey, over half of moms want an in-person visit most of all for Mother's Day. Making the effort to have a nice, home-cooked meal, treating your mom to dinner at her favorite restaurant, or bringing your family together for quality time will mean more to most mothers than any card or gift.
For caregivers, one fantastic Mother's Day gesture is to help your mom re-experience a favorite activity that has become difficult with age. If your mom has a favorite restaurant she hasn't been to in months due to limited mobility, set up transportation and accommodation to make a visit possible. If she misses gardening, provide an extra set of hands to help her tend to her plants. If it's been years since she's had a day at the spa, find a way to bring the spa to her in the comfort of home.
Simple Gifts Are Often the Best
Even if gestures often mean more than gifts, most of us will still want to get our moms something special this year. Simple and traditional gifts often work best. Unless you know that your mother doesn't care for cards or flowers, these gifts are a great way to bring a little bit of joy into your mom's day and let her know that you thought of her.
If you're looking for something a little more special this year, consider some of the following gift ideas:
Digitized Photos. Taking the time to digitize treasured photos can help preserve old memories. You can also take a collection of your mom's favorite snaps and upload them to a digital photo frame.
Indoor Plants. An indoor plant can be a great gift for seniors who used to garden but who have trouble getting outdoors due to limited strength and mobility.
Maid Services. Whether you're hiring a professional maid service or performing clean-up duty on your own, many seniors appreciate a helping hand with home cleaning.
You might also want to get your mom a practical gift. It is a good idea to tread lightly with these gifts since some practical gifts for the elderly can make seniors feel self-conscious about aging.
If you're interested in our compassionate
home care
services for you or a loved one, contact your nearest Visiting Angels
home care agency
today or call 800-365-4189.