Outdoor Activities for Seniors & Caregivers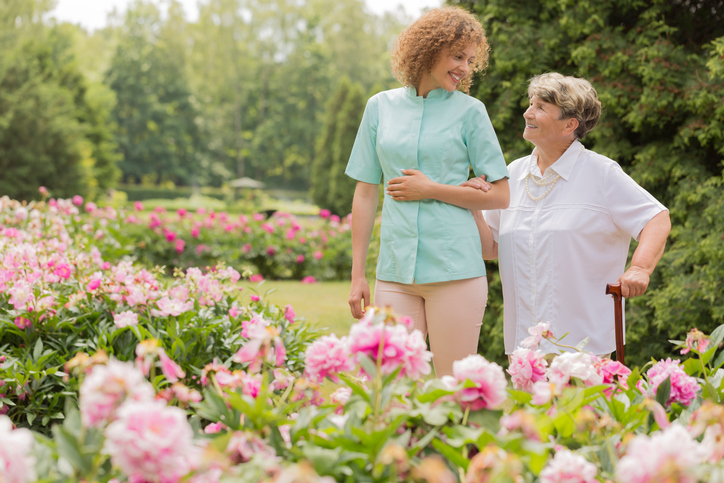 Spring is in the air, and whether you're eight years old or eighty, it's the perfect time to get outside and enjoy the outdoors. If you are a family caregiver for an older loved one, there are plenty of outdoor activities for seniors that you and your loved one will be able to enjoy together.
"Outdoor activities for seniors have a range of benefits," says Larry Meigs, President and CEO of Visiting Angels. "By getting seniors out of the home, you encourage light exercise, which is an important part of healthy living in the elderly. It also gives seniors the chance to soak up fresh air and sunshine, which can improve physical and emotional health."
Here are Visiting Angels' top activities for seniors and caregivers to enjoy this spring…
Picnics
There's no more quintessential outdoor activity than a picnic. Whether you're enjoying a meal for two in the backyard or meeting with friends for a feast in the park, a picnic is the perfect way to get an elderly loved one outside into the fresh air. What's more, it offers the chance to pack healthy snacks like fruits and omega 3-rich foods.
Fruit Picking
If you live in an area with lots of local agriculture, you might be able to take advantage of pick-your-own fruit farms. Picking your own fruit — whether those fruits are apples, strawberries, raspberries, or another variety — offers the benefits of exercise, the outdoor, and stocking up on healthy foods.
Gardening
One of the most popular outdoor activities for older adults is gardening for seniors. It's also one of the best ways for seniors to stay active. While some people don't really think of gardening as exercise, it is an excellent way for seniors to maintain strength and make light aerobic activity a part of daily life.
Walks
Whether you're taking a five-minute stroll or a daylong hike, going out for a walk can be a great way to take in the world, get some fresh air, and step away from stress and distractions. It's also one of the most recommended forms of light exercise by health professionals.
Outdoor Theater & Music
Even if you live in a small town, there's a good chance that local organizations put on outdoor plays and events that you and your loved one will be able to enjoy. Whether you're going out to see outdoor community theater or taking in an open air music festival, this can be a great way to soak up culture and sunshine all at once. One popular (and often free) option: Shakespeare in the park.
Birdwatching
While birdwatching isn't for everyone, many seniors find it to be a singularly rewarding activity. Birdwatching is one of the best outdoor activities for seniors who want to connect with nature. Many birdwatchers find that it's a soothing, therapeutic experience.
Looking to get an elderly loved one outdoors this spring? Caregivers from your local Visiting Angels will be happy to accompany your loved one on a number of outdoor activities for seniors. Contact your local office today to get started with care.
If you're interested in our compassionate
home care
services for you or a loved one, contact your nearest Visiting Angels
home care agency
today or call 800-365-4189.