Senior Care After a Heart Attack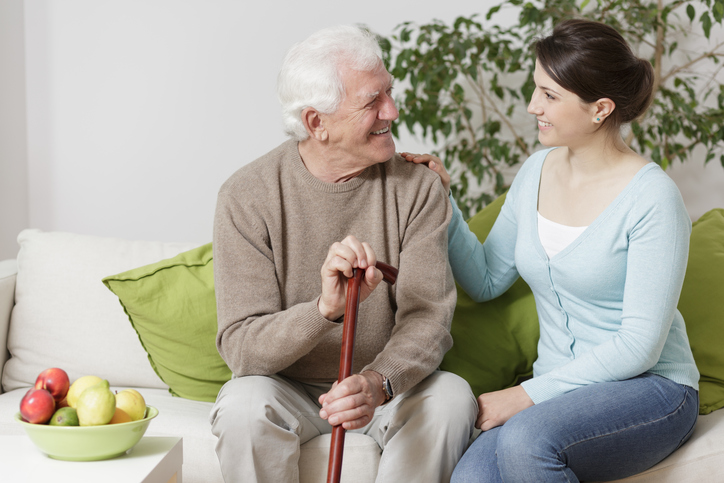 When an elderly family member suffers a heart attack, you want to do all that you can to assist them with their recovery. The good news is that most people recover fully from their first heart attack. That said, your loved one's prognosis will be affected by his or her age, health, and the severity of his or her heart attack. But by providing senior care after a heart attack, you can greatly improve your loved one's chances of a full recovery.
"Home care — whether from family caregivers, medical care professionals, or non-medical care providers — is a big part of recovering from a heart attack," says Visiting Angels President and CEO, Larry Meigs. "For many seniors, having that support system can be the difference between a full recovery and a readmission to the hospital."
If your spouse, parent, or grandparent has recently suffered a cardiac arrest, you could play a key part of their path to recovery. Below, we've detailed some guidelines to senior care after a heart attack that will be helpful through your loved one's healing process.
Follow Doctor's Orders
The most important step that you can take when caring for someone after a heart attack is to follow the doctor's orders exactly. Your loved one's doctor might prescribe a range of medications and/or recommend a cardiac rehabilitation program. Following these directives to a 'T' will greatly increase your loved one's chances of making a full recovery. So, if you're going to play a major role in your loved one's healing process, make sure that you or someone you trust is there to record any medical directives made by your loved one's doctor. Pay close attention, take notes, and don't be afraid to ask questions or seek clarification.
Make Life Easier at Home
After a heart attack, most patients spend between one to three months resting and recuperating. To improve your loved one's chances of recovery, it's important that they go as easy on their heart as possible during the healing process. During this time, it's important that someone is there to make daily living easier. Providing senior care after a heart attack can mean offering a helping hand with physically exerting activities, like housekeeping, laundry, gardening, or mowing the lawn. Depending on your loved one's condition, it might also mean helping your loved one get dressed, bathe, or go to the bathroom. This will lower the amount of stress on your loved one's cardiovascular system and reduce their risk of a second attack.
Support Lifestyle Changes
Most heart attacks can be partly traced to risk factors in a person's lifestyle. These risk factors can include their weight, eating habits, pre-existing health conditions, or a history of smoking. After your loved one's heart attack, his or her doctor will likely recommend a number of changes to his or her lifestyle. Providing senior care after a heart attack typically means supporting your loved one through these lifestyle changes. It's difficult for anyone to lose weight, quit smoking, or start exercising, and that's especially true later in life. A family caregiver can make this process easier by assisting with meal planning and meal preparation, acting as an exercise partner, or simply by providing words of encouragement.
Provide a Watchful Eye
After your loved one's heart attack, he or she will be at higher risk for a second attack. If this occurs, it's essential that your loved one gets medical attention as quickly as possible. The best way to do this is to learn the symptoms of a heart attack and monitor your loved one carefully for signs of cardiac arrest. Try to have someone at your loved one's side at all times, and immediately call 911 if it appears that they are suffering a second attack.
Consider Outside Help
Senior care after a heart attack can be a lot to handle for one person, or even an entire family. One avenue that many families take is to hire a professional home care aide to assist with the non-medical aspects of senior care after a heart attack. If you think you may need assistance with post-heart attack senior care, consider contacting your local Visiting Angels office. Our Ready-Set-Go Home program for post-hospital care includes a range of home assistance and monitoring services to improve your loved one's chances of recovery after a cardiac arrest.
Receive a no-cost, in-home assessment for post-heart attack non-medical senior care by calling your local Visiting Angels today.
If you're interested in our compassionate
home care
services for you or a loved one, contact your nearest Visiting Angels
home care agency
today or call 800-365-4189.