Study: Inactive Lifestyle Adds 8 Years to Biological Age
It's no secret that physical activity helps us age healthier. But according to a new study published in the American Journal of Epidemiology, physical activity can also help us age slower.
In the study, researchers at the University of California-San Diego tracked 1,481 senior women, comparing the relationship between the women's levels of activity and the biological age of their cells. The results showed that inactive women had a biological age a full eight years higher than the women who exercised regularly.
Physical Activity Linked with Cellular Age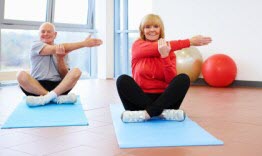 The researchers behind the study found that two signs of inactivity were strongly linked to advanced aging. The amount of time that women in the study exercised every day and the number of hours that they spent inactive were both shown to speed up the biological aging process. Scientists measured the amount of exercise and inactivity by tracking motion sensor devices worn by the women in the study.
Women who exercised for 40 or more minutes a day and spent less than 10 hours inactive had the "youngest" cells in the study. But women who got less than 40 minutes of exercise and who spent more than 10 hours inactive each day had the "oldest" cells.
To measure who had the "youngest" and "oldest" cells, scientists measured the length of telomeres in cells. Telomeres naturally shorten as human beings age, and when they get shorter. As they get shorter, cells eventually deteriorate and die. Because they are so closely linked with aging, telomeres are considered a kind of biological clock by scientists.
Encouraging a More Active Lifestyle in Seniors
At Visiting Angels, we've long championed the benefits of a physically active lifestyle for seniors. But we also know that getting inactive seniors to adopt a more active lifestyle is rarely easy. "Encouraging physical activity in seniors is one of the most challenging aspects of caring for seniors," says Larry Meigs, CEO and President of Visiting Angels.
But that doesn't mean that it's not worth encouraging a more active lifestyle for your parent or grandparent. If you decide to help your loved one become more active, remember to do so with a kind and non-confrontational approach. Take small steps, understand your loved one's comfort zone, and avoid pushing them to do too much too fast.
If you aren't around during the day to help your loved one with physical activities, you may consider hiring a professional caregiver. Contact your local Visiting Angels office today to find out how our caregivers can be of service to you and your loved one.
Note: Before undertaking any exercise program, please consult with your loved one's physician to make sure they are healthy enough for physical activity. Visiting Angels does not provide physical therapy or other exercise services. The care we provide is strictly non-medical in nature.
If you're interested in our compassionate
home care
services for you or a loved one, contact your nearest Visiting Angels
home care agency
today or call 800-365-4189.