How In-Home Care Providers Can Prevent Hypothermia in Seniors
As the temperature dips lower, seniors are put at risk of hypothermia. If you are an in-home care provider for an elderly loved one, it's important to know how to prevent hypothermia in seniors. Seniors often contract hypothermia much more quickly than younger individuals and can develop hypothermia under much milder conditions.
The team at Visiting Angels has put together a short guide that in-home care providers can use to prevent hypothermia in seniors. We've also included the signs of hypothermia so that you can quickly identify these signs and get medical attention when needed.
Care Tips for Preventing Hypothermia in Seniors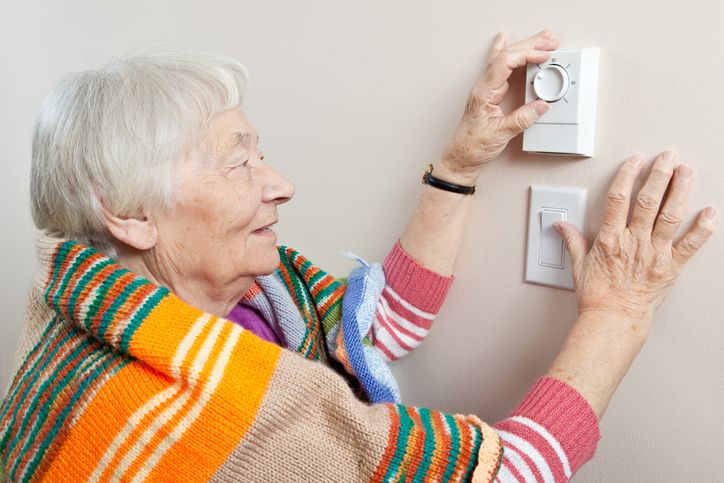 While most people think of hypothermia as something that only happens outside of the home during extreme winter weather, the indoors can be an even bigger threat to older Americans. That's because people of all ages think of the indoors as a safe space and fail to take precautions to prevent hypothermia in seniors.
If you are an in-home care provider for an elderly loved one, here are some specific steps you can take to help decrease your loved one's vulnerability to hypothermia.
Set the thermostat to 68° F or higher. Some people like a cool home, but not many realize that hypothermia can set in at what some consider "brisk" temperatures. Seniors, in particular, can be vulnerable to hypothermia at indoor temperatures of 65° F or lower.
Offer warm clothing and blankets. Keeping warm during winter isn't just about the temperature you set your thermostat. Insulated clothing, long underwear, winter socks, and thick blankets all help seniors stay warm and prevent hypothermia.
Prepare warm foods and liquids. If your duties as an in-home care provider for your loved one include preparing meals, make warm meals as often as possible during winter. Instead of cold cereal for breakfast, try fresh oatmeal. During the day, offer warm beverages like tea to help keep your loved one's body temperature up.
Bundle seniors up for the outdoors. If going outside, make sure that your loved one has plenty of warm, winter clothing on. Dress your loved one in plenty of warm layers, and include winter essentials like a warm hat, mittens or gloves, and a scarf.
Pass on hypothermia prevention tips. Even if you're not around all the time to help your loved one reduce the risk of hypothermia, you can pass on tips for them as they live through the winter months. In addition to the above suggestions, you should suggest that your loved one make sure their home is warm before getting out of bed in the morning. You should also suggest that they move around the home and avoid staying in one place or position for too long at a time.
Signs of Hypothermia in Seniors
Family in-home care providers should be aware of the signs of hypothermia in seniors. A person may be suffering from hypothermia if one or more of the below symptoms are present:
Shivering
Poor physical coordination
Fatigue or exhaustion
Nausea or dizziness
Faster breathing
Trouble speaking
Slight confusion
Faster heart rate
Hunger
In later stages, hypothermia presents itself differently. Moderate or severe cases of hypothermia can include the above symptoms, as well as others such as:
Clumsiness
Poor balance
Slurred speech
Mumbling
Weak pulse
Slow, shallow breathing
Confusion or irrational actions (in some cases, people try to remove warm clothing)
Progressive loss of consciousness
As an in-home care provider — or in any other capacity — it's important to seek immediate medical attention for anyone you suspect may be suffering from hypothermia. Call 911, and keep the person as warm as possible until medical care arrives.
If you are concerned about your loved one's safety or wellness, we encourage you to speak to their doctor or your local senior welfare agency.
If you're interested in our compassionate
home care
services for you or a loved one, contact your nearest Visiting Angels
home care agency
today or call 800-365-4189.