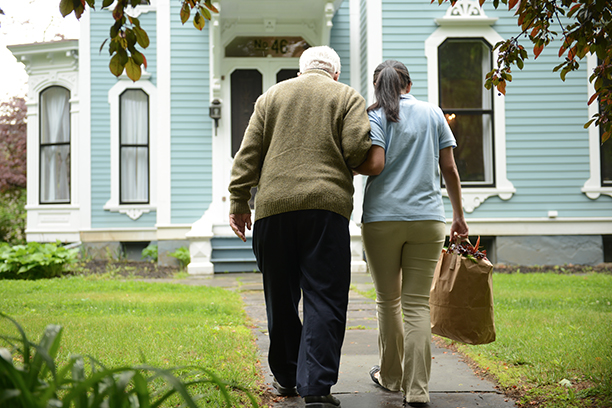 Medication Reminders from Dedicated Caregivers in Littleton, CO and Surrounding Areas
Many seniors are prescribed certain medications in order to manage chronic health conditions or to aid in recovery after a medical procedure. If your senior loved one currently takes any prescription medication, they may need to take it at a specific time or need to follow instructions while taking it. However, certain age-related issues can make it difficult for your loved one to remember to take their medication. They may also have trouble with taking the correct dosage or forget to take medications with food. These issues can cause their medication to not be as effective or may cause health issues.
That's why at Visiting Angels Littleton, we provide helpful medication reminders as part of our home care services. Our professional caregivers can help your loved one remember to take their medication when needed in order to manage health conditions. Our goal is to provide the support seniors in Littleton, Englewood, Centennial, Parker and surrounding areas in Colorado need to make independent living a little bit easier.
How Can Professional Caregivers from Visiting Angels Littleton Help My Loved One?
Here are some of the ways our caregivers can help your loved one remember to take their medication:
Giving a friendly reminder when it's time to take medication
Setting a timer or reminder devices so your loved one can take their medication at the correct time
Watching your loved one take their medication so we can ensure they take the proper dosage or remember to take it with food or water
Keeping an eye in case your loved one shows any side effects after taking their medication
Keeping a record of dates and times when your loved one takes their medication so that family members know that it was done
It is important to note that because Visiting Angels does not provide medical care our caregivers are unable to organize your loved one's pill box or administer medications. However, our services are useful in making sure your loved one takes their medications on time.
Other Home Care Services We Offer
Medication reminders are just one out of many home care services we offer throughout the South Metro Denver area. Our caregivers can also take your loved one to and from medical appointments so they can discuss the effectiveness of their current medication regimen with their healthcare provider and whether they need to adjust their dosage or switch to a new medication. We can also prepare meals and snacks for your loved one to take with their medication if needed.
Maintaining good health is very important for seniors as staying healthy can help them remain independent and allow them to live out their golden years at home. While medicine is highly effective in helping seniors manage chronic conditions, it is equally important to live a healthy lifestyle. When you choose in-home senior care from Visiting Angels Littleton, you're choosing a care team that will not only assist your loved one with everyday tasks like medication reminders, but can also encourage them to adopt new habits into their everyday routine that can also help in managing certain health conditions.
Our caregivers can help your loved one get to a senior center or gym so they can exercise and improve their physical health
We can prepare healthy meals to help your loved one manage their weight or blood pressure
We can assist with personal care needs, such as bathing and putting on clean clothes, so prevent possible skin infections
With Visiting Angels Littleton, you can have peace of mind knowing your loved one is in good hands.
Call Visiting Angels Littleton at 720-981-0804 to schedule an in-home consultation today!
Serving Serving Littleton, Englewood, Centennial, Parker, and Throughout the South Metro Denver Area
Visiting Angels
LITTLETON, CO
26 W Dry Creek Cir #820
Littleton, CO 80120
Phone: 720-981-0804
Fax: 720-891-8443