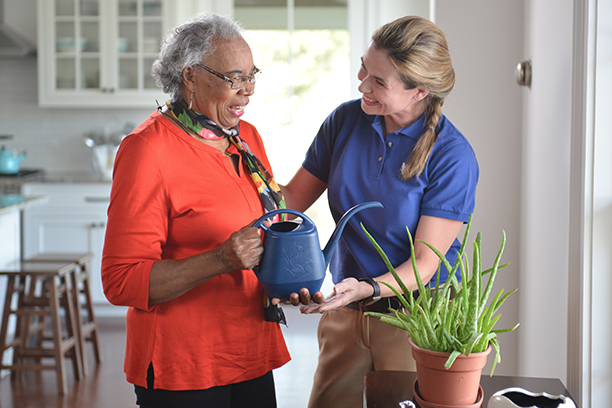 Light Housekeeping for Seniors in Littleton, CO and Surrounding Areas
Simple chores may become more difficult for your loved one as they age. Taking care of the house, for example, is a chore that might grow increasingly challenging. It might be difficult to dust shelves or clear clutter from pathways if you have mobility concerns. Your loved one may also forget to run the dishwasher or transfer clothes from the washer to the dryer from time to time, particularly if they have a disease like dementia that impairs their memory and cognition. Your loved one may need assistance if there are dirty dishes stacking up in the sink, stains on the worktops or a growing quantity of debris on the floor.
Fortunately, Visiting Angels Littleton provides a variety of in-home supportive services for seniors in Littleton, Englewood, Centennial, Parker, Highlands Ranch and surrounding communities in the South Metro Denver area, including help with light housekeeping. Our caregivers can assist your loved one with cleaning and organizing their house, which can improve their quality of life.
What Does Light Housekeeping from Visiting Angels Littleton Include?
Our caregivers can help with:
Doing laundry
Washing dishes
Cleaning countertops and other surfaces
Dusting and sweeping
Clearing walkways
Cleaning bedsheets
Taking out the garbage
And more
Why Choose a Home Care Agency for Light Housekeeping Assistance?
When seniors live alone, it is important for them to keep the home tidy because it helps them stay safe and healthy.
Cleaning the home helps with removing germs from high-touch locations such as doorknobs and stair railings, as well as clothing that is often exposed to the outside world. Removing germs from inside the home can keep your loved one from being unwell as a result of aging, which is crucial since a weakening immune system is a common issue seniors face as they age.
Furthermore, keeping the home clean on a regular basis can reduce your loved one's risk of falling. Common hazards like clogged paths or puddles on the floor may cause older adults to lose their balance and fall, resulting in serious injuries such as cracked or broken bones or head trauma. Many seniors who injure themselves while falling often experience a lengthy healing period or perhaps the loss of independence.
If your loved one is having difficulty with simple household duties, a professional caregiver from Visiting Angels Littleton may be able to help. Light cleaning services are included as part of our in-home supportive services since they help us guarantee that clients stay secure and comfortable in their own homes.
Visiting Angels Littleton is trusted by families in the South Metro Denver area for help with light housekeeping because we believe in a customized, one-on-one approach to home care. That means our team will with you to assess the services your loved one genuinely needs while adhering to their routines and schedule.
Our in-home supportive services include more than just light housekeeping. We can also provide help with taking care of your loved one's personal hygiene, meal planning and preparation, medication reminders, errand running and so much more. When our care providers help seniors with daily duties, it makes it much simpler for them to age in place.
Call Visiting Angels Littleton at 720-981-0804 to learn how our in-home supportive services can give you peace of mind,
Serving Serving Littleton, Englewood, Centennial, Parker, and Throughout the South Metro Denver Area
Visiting Angels
LITTLETON, CO
26 W Dry Creek Cir #820
Littleton, CO 80120
Phone: 720-981-0804
Fax: 720-891-8443