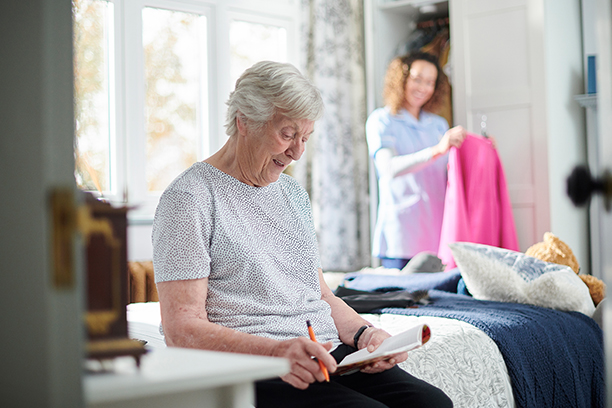 Meal Planning and Preparation for Seniors in Littleton, CO and Surrounding Areas
Healthy eating can be a challenge for some seniors. Tasks that seem simple like making meals or shopping for groceries can be difficult when you're dealing with age-related issues like limited mobility, you can't drive yourself to the grocery store due to low vision or you don't remember what ingredients you have at home. A balanced diet can be highly beneficial for seniors in Littleton, Centennial, Parker, Englewood and throughout Colorado, especially those living with chronic illnesses. But if your loved one is starting to show signs that they're not eating well or not eating as often as they should, it may be time to consider professional living assistance services.
This is why at Visiting Angels Littleton, we have included meal planning and preparation into our living assistance services. Our caregivers can encourage your loved one to plan meals that can provide the nutrition they need and help them prepare delicious meals and snacks.
Why Healthy Eating Can Be Challenging for Seniors
Loss of mobility or strength
Seniors often lose their strength and become weaker with age. Buying groceries and cooking may become difficult or impossible.
The "convenience" of frozen meals and fast food
Without easy access to the grocery store, many seniors turn to frozen meals or fast-food restaurants for inexpensive, easy meals. However, these processed foods are often full of salt and other unnatural preservatives that lack the nutrients your loved one needs.
Lack of appetite due to medication or depression
Some seniors simply don't feel hungry. This may be a side effect of their medications or due to mental health concerns such as loneliness or depression. Cooking can be troublesome or difficult so our living assistance services are here to pick up quality ingredients and prepare nutritious meals your parent will enjoy.
What's Included in Meal Planning and Preparation from Visiting Angels Littleton?
Our caregivers can help your loved one by:
Accompanying your loved one to the store or heading there alone with a list of things to buy
Preparing snacks and meals such as pre-cut veggies, sandwiches and other favorites
Helping with kitchen organization to make plates, utensils and pantry items low enough for your loved one to access safely
Storing leftovers and cleaning up any dishes
Taking out the trash as needed
Helping them eat if they live with a condition that affects their fine motor skills, such as Parkinson's
If you want to learn more, our caregivers are here to walk you through the process. If you are worried that your loved one is skipping meals or is not eating well, we are at your service. With our in-home care services, your loved one will eat nutritious meals important for their overall well-being.
Contact Visiting Angels Littleton to Learn More About Our Living Assistance Services
Our home care professionals are here to help make your loved one more comfortable in their home. Contact us today to plan an at home consultation to begin discussing our services today.
Serving Littleton, Highlands Ranch, Centennial, Castle Rock, Parker, Greenwood Village, Evergreen, and Throughout the South Denver Metro Area
Visiting Angels
LITTLETON, CO
26 W Dry Creek Cir #820
Littleton, CO 80120
Phone: 720-981-0804
Fax: 720-891-8443