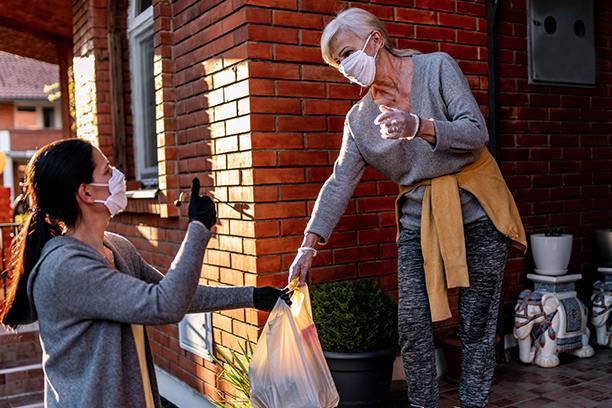 Elder Care Services for Fall Prevention in Lynchburg, VA and the Surrounding Area
Visiting Angels Offers Elder Care Services to Seniors Who Need Help with Fall Prevention Throughout Lynchburg, Forest, Madison Heights, and the Nearby Cities
If you have a senior loved one who you believe is at risk of falling, you may want to consider fall prevention measures. At Visiting Angels of Lynchburg, we offer comprehensive elder care services to help seniors avoid injury. Falling can cause serious damage to seniors physically, emotionally, and socially, as it can prevent seniors from being able to leave their homes without supervision. Seniors who have fallen or fear falling often skip social events, which can be very isolating and may lead to sadness or depression.
Falling Facts
About 36 million seniors fall every year, though some falls are more serious than others. Seniors who fall often injure their knees, hips, or other areas that can take months to heal.
One in four seniors fall every year, and one in five are seriously injured
Every year, more than 800,000 seniors are admitted to the hospital due to a fall-related injury
Seniors who have fallen once are more likely to fall in the future
Many injuries caused by falling can take over a year to recover, and some people never fully recover
Common Fall Risks
At Visiting Angels of Lynchburg, we know there are many risk factors involved in falls. Our elder care services can help seniors and their families identify risk factors and help seniors avoid these. For example, risk factors can be your loved one's physical condition, mental condition, or even their environment. Common risk factors are:
Poor eyesight
Dark staircases
Dehydration
Bathtubs or showers without grab bars
Cluttered walkways
Lack of handrails near the stairs
Medications
Rugs or lifted carpet
Poor eyesight
Once you identify the risk factors in your loved one's environment, you can address them by adding in handrails throughout the home, making sure your loved one is eating healthy, and possibly having your loved one use physical support while walking, among many other things. Our elder care services can be a huge help in preventing costly falls as our caregivers can assist with mobility, walking, transferring, transportation, and more.
Schedule Your Free, In-Home Consultation and Fall Prevention Assessment
Contact Visiting Angels of Lynchburg today to learn how we can assist your loved one prevent costly and hazardous falls in their own home. Our staff will be happy to answer any questions you may have about our Fall Prevention Program and to set up a complimentary in-home consultation with a care coordinator. A comprehensive fall risk assessment of your loved one's home will be included in this consultation. Click one of the options below to get started with our elder care services.
Serving Lynchburg, Forest, Amherst, Campbell County, VA, and the Surrounding Area
Visiting Angels
LYNCHBURG, VIRGINIA
2900 Old Forest Rd Suite B
Lynchburg, VA 24501
Phone: 434-337-3836
Fax: 434-439-4733