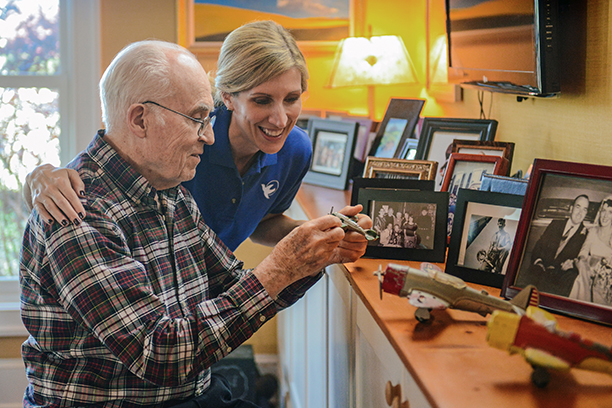 Senior Care in Monroe, VA
Essential senior care in Lynchburg, Evington, Forest, Amherst, Campbell County, VA, and the surrounding area
We know how vital it is to find a trustworthy caregiver for your elderly loved one, so we only hire the best of the best caregivers at Visiting Angels. Each of our caregivers must have at least two years of prior care experience to be considered. Caregivers must also undergo a thorough background investigation. We pay close attention to the candidates' personalities. Honesty and kindness were the cornerstones of our company's foundation during the hiring process. We only hire caregivers who can be all these things and more.
Visiting Angels provide one-on-one care in the comfort of your own home
Visiting Angels set itself apart from the competition by providing individualized care. It's one of our many distinct characteristics. With our comprehensive selection of one-on-one care services, we can meet the unique needs of each senior. During a free in-home consultation, one of our care coordinators will work with you to create a personalized care plan that meets your specific needs.
Visiting Angels of Lynchburg provide senior care
We offer a variety of services in Monroe, VA, including:
How do you get started?
Visiting Angels of Lynchburg, VA, goes above and beyond to make your seniors feel comfortable and secure in their own home in Monroe, VA. Our service packages include personal care services such as clothing, bathing, grooming, and mobility help. We can also pick you up and drop you off at your appointments. Try them out to see how much of a difference our services can make in your life. Do you require elder assistance right away? Contact Visiting Angels of Lynchburg, Virginia, for more information on getting started. To connect with a compassionate caregiver, select one of the choices below.
Senior care in Monroe, Virginia
To learn more about our essential care services, click the link below. Please don't hesitate to contact us if you'd like to schedule a consultation in your home. We'll be there for you when you need us the most.
Serving Lynchburg, Forest, Amherst, Campbell County, VA, and the Surrounding Area
Visiting Angels
LYNCHBURG, VA
2900 Old Forest Rd Suite B
Lynchburg, VA 24501
Phone: 434-439-4698
Fax: 434-439-4733