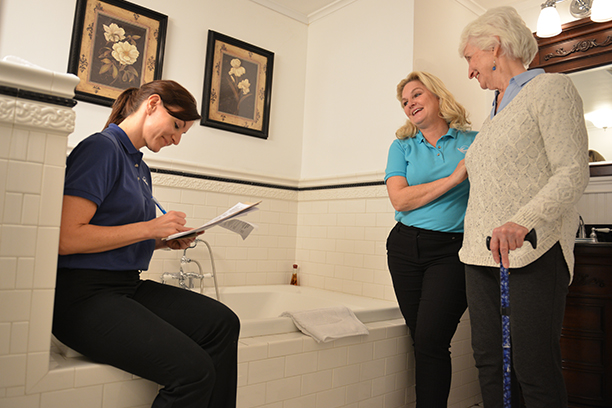 How to Start Living Assistance Services in Lynchburg, VA and the Surrounding Cities
Visiting Angels Explains How to Begin Living Assistance Services in Lynchburg, Amherst, Campbell County, and Nearby Areas
As you explore senior care options for your loved one, you probably have a lot of questions. How much does it cost? What services are available? What caregiver qualifications should I look for? Is in-home senior care the best choice? It can be overwhelming. At Visiting Angels Lynchburg, we start with a free consultation. You'll get expert guidance to help you navigate the decision-making process. It's the first step to getting the compassionate living assistance services you need.
How Should I Prepare for the Consultation?
Before your consultation, let your loved one know that you are considering hiring a caregiver. The decision to hire professional care can be a sensitive, emotionally charged issue and may be met with objections. If your loved one resists the idea, listen to their opinions and concerns, but emphasize that their health and well-being are your top priorities.

A Visiting Angels Lynchburg care coordinator will come to your home, explain our living assistance services, and answer your questions. They will get to know you and your loved one and learn about your specific needs. Before the meeting, collect your thoughts and be ready to share your ideas. It's a good idea to review your finances and bring a list of questions to cover during the consultation. The care coordinator may ask you:
What tasks are most difficult?
What time of day does he or she typically need assistance?
Logistical details such as giving the caregiver home access and rescheduling care visits
Is there a chronic illness such as arthritis that requires specific services?
Have you budgeted for in-home care?

We'll Discuss Living Assistance Services
Our compassionate care coordinators at Visiting Angels Lynchburg are skilled at putting seniors and family caregivers at ease, especially when discussing sensitive elderly care issues. Topics to cover might include:
Physical needs such as personal hygiene, dressing, meal preparation, and mobility
Emotional needs such as socializing and companionship
Schedules and routines involving sleep, meals, and medication
Housekeeping tasks such as meal preparation, grocery shopping, and laundry

How to work with Visiting Angels regarding scheduling, entering the home, and documentation
Our in-home consultations include complimentary home safety and fall-risk assessments. Your Visiting Angels Lynchburg care coordinator will answer your questions about caregiver qualifications, safety, oversight, emergency procedures, and other concerns.
What Happens After the Consultation?
Your care coordinator will use information from your consultation to develop a comprehensive plan tailored to your loved one's unique needs. The plan will include a schedule and a description of specific tasks that require assistance. Your care coordinator will then match your loved one with a compatible caregiver.
When Can Care Begin?
If you would like to proceed with services, we would create a schedule, finalize the care plan, schedule a nurse visit, and coordinate a meeting with your caregiver. Caregivers can typically begin within 48 hours of the initial consultation. In some cases, services can start the same day.

If you're in Lynchburg or the surrounding areas and want to learn more about living assistance services by Visiting Angels, call us at 434-337-3836.
Serving Lynchburg, Forest, Amherst, Campbell County, VA, and the Surrounding Area
Visiting Angels
LYNCHBURG, VA
2900 Old Forest Rd Suite B
Lynchburg, VA 24501
Phone: 434-439-4698
Fax: 434-439-4733