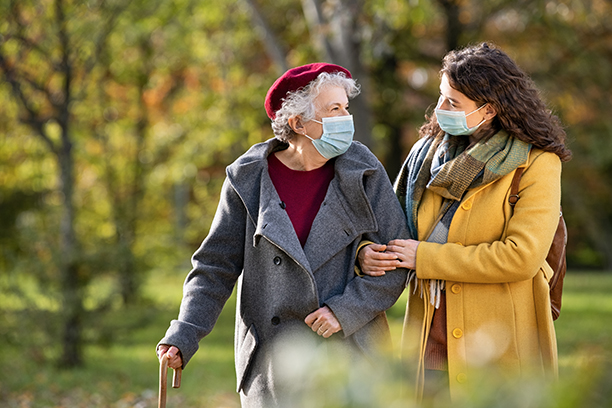 Alzheimer's Services for Seniors Wanting to Remain at Home in Greater Lynchburg, VA
Visiting Angels Provides In-Home Alzheimer's Services to Families with Aging Loved Ones in Lynchburg, Amherst, Campbell County, and Surrounding Areas
If your aging loved one has just been diagnosed with Alzheimer's disease, it can be hard on the whole family. You might wonder how your loved one will be able to enjoy their golden years, how your family will be able to cope, and what resources your loved one needs to stay healthy. At Visiting Angels of Lynchburg, our Alzheimer's services are here to make this process easier on your family and more healthy, happy, and comfortable for your loved one.
How Visiting Angels of Lynchburg Can Help
At Visiting Angels of Lynchburg, we offer comprehensive in-home services for clients with all kinds of health conditions and needs. With a dedicated caregiver, your loved one can receive help with making meals, medication reminders, mobility and transportation, laundry, linens changing, and personal care, like toileting or bathing. We can incorporate all these services as your loved one's condition advances.
Daily Assistance
Cognitive diseases can impact quality of life, but that does not mean your loved one cannot have a bright future. Alzheimer's is a complicated disease with many symptoms, and expert Alzheimer's services can make a difference. With the skill of an experienced caregiver and stable, knowledgeable support, your loved one's every need will be met, and they will have access to emotional, mental, and social resources.
Safety and Security
Our services are designed to increase your loved one's safety and security while at home. You might have heard horror stories of patients who wander away; sometimes, that is simply because they do not feel like they are at home. Your loved one will be more comfortable, and feel more grounded, in their own home with the services of a caregiver.
Giving Seniors Their Best Quality of Life
Visiting Angels of Lynchburg can help you make sure that your loved one enjoys the best possible quality of life. Our knowledgeable caregivers will help you monitor your loved one, coordinate with medical providers, and make sure your loved one has all the resources that are needed for them to remain safe, comfortable, and healthy.
Contact Us Today
If you are concerned about the long-term well-being of a loved one with Alzheimer's, Visiting Angels of Lynchburg is ready to help. Contact our agency today at 434-337-3836 to connect with knowledgeable care providers and the best Alzheimer's services available in Lynchburg, Amherst, Campbell County, and the surrounding area.
Serving Lynchburg, Forest, Amherst, Campbell County, VA, and the Surrounding Area
Visiting Angels
LYNCHBURG, VIRGINIA
2900 Old Forest Rd Suite B
Lynchburg, VA 24501
Phone: 434-337-3836
Fax: 434-439-4733