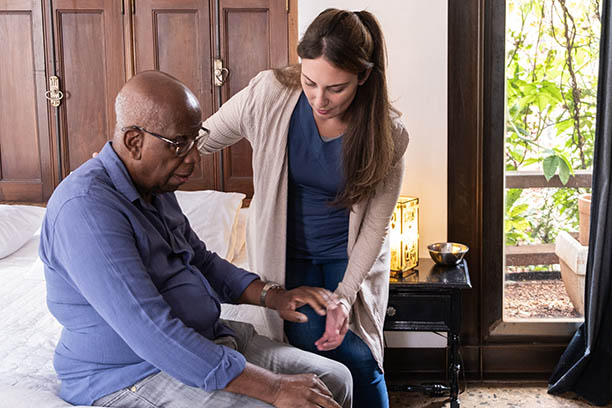 Palliative Care for Seniors in Lynchburg, VA, and the Nearby Cities
Visiting Angels of Lynchburg offers compassionate home care that helps strengthen and enrich the lives of our elderly loved ones in many ways. Our care focuses on the physical, emotional, social, and spiritual needs of our clients, and we strive to make them as comfortable as possible, no matter their unique situation.
Visiting Angels Provides Palliative Care to Help Seniors in Lynchburg, Amherst, Campbell County, and the Nearby Areas
Visiting Angels of Lynchburg has created our own Palliative Care Certification Program to ensure that our caregivers are properly trained to assist your loved ones with anything they may need physically, emotionally, socially, or spiritually. The service is offered through our Life Care Navigation Program. Life Care Navigation provides comforting care and assistance during the end-of-life process.
The program trains our caregivers to have a holistic mindset that fosters hospitality, positivity, and above all else, support. We approach care with a mission of restoring hope and assistance throughout the healing process
Holistic Senior Care Services
Palliative care alleviates stress and fatigue from serious long-term diseases and health conditions – during any stage. It focuses on enriching and improving the quality of life for individuals and families regardless of life expectancy.
It is a powerful type of holistic care that provides comfort for individuals who are suffering from symptoms of serious illnesses such as:
Cancer
Heart Disease
Kidney Disease
Alzheimer's Disease
Amyotrophic Lateral Sclerosis (ALS)
Parkinson's Disease
Chronic Obstructive Pulmonary Disease (COPD)
And many other serious conditions
The Difference Between Palliative and Hospice Care
Unlike traditional hospice, palliative care is not only used for those nearing the end of life but can be a successful long-term solution to a loved one's chronic illness or disease. We realize that some of these diseases can cause very painful long-term battles for individuals, so we want to be there for your loved ones every step of the way.
Palliative care is for individuals who need:
Assistance for aging or chronic care concerns
Physical, emotional, spiritual, and social support
Personal home care
Types of Senior Care
Visiting Angels of Lynchburg has a dedicated and thoroughly trained team of compassionate and warm-hearted caregivers. Each is committed to enhancing the quality of life for all clients through individualized home care to meet your specific needs.
Physical needs – Providing personalized care on a day-to-day basis for those not physically able
Emotional needs – Maintaining a positive and uplifting spirit while consoling those who may suffer from depression, loneliness, stress, or anxiety
Social needs – Taking time to form relationships with our clients and their families by talking, listening, and understanding
Spiritual needs – Helping clients find peace and alleviate stress by treating each individual with respect and integrity throughout the healing process
Selecting Your Caregiver
If you have a loved one who needs a more personal and holistic approach to care, then contact Visiting Angels of Lynchburg. We will be happy to answer any questions you may have about our specialized care programs and coordinate a meeting with one of our care directors in your loved one's home. We offer customized care plans, the ability to choose your caregiver, and a compassionate, client-centered approach so you can find the perfect caregiver for your needs.
Schedule your FREE, In-Home Assessment Today
Schedule your free, in-home assessment today by contacting Visiting Angels of Lynchburg. We are happy to go over our custom senior care options with you and your aging loved one. Click one of the buttons below to contact one of our senior care providers today!
Our caregivers are here to provide assistance through our palliative care services. Call us today to learn more about how we can help.


Serving Lynchburg, Forest, Amherst, Campbell County, VA, and the Surrounding Area
Visiting Angels
LYNCHBURG, VA
2900 Old Forest Rd Suite B
Lynchburg, VA 24501
Phone: 434-439-4698
Fax: 434-439-4733