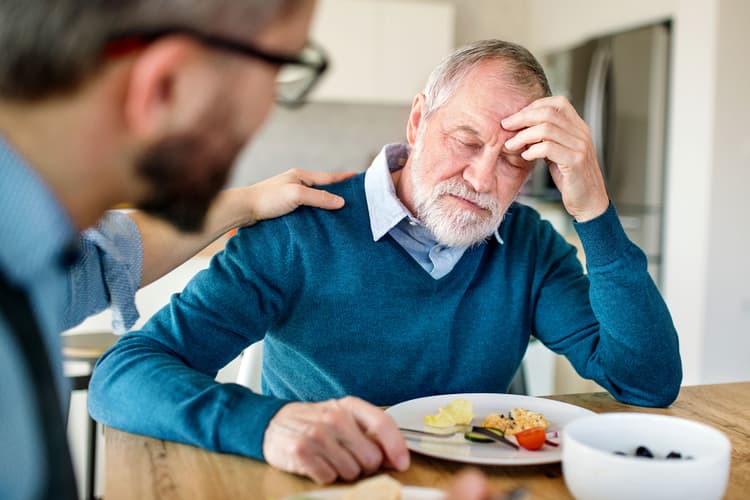 WHAT TO DO ABOUT ALZHEIMER'S AGGRESSION
Sometimes, people with Alzheimer's lash out for no clear reason. It is difficult to understand why they get upset or angry so easily. They may curse, throw insults, or scream and kick. Often a loved one with dementia will throw things or resist you or their caregivers by pushing and hitting. This kind of aggression is usually seen when people get to the later stages of the disease.
Aggression may be a symptom of Alzheimer's disease itself. It could also be a reaction when a person feels confused or frustrated. If your loved one becomes aggressive, it's important to remember that they aren't doing it on purpose. There are also things you can do to make them feel better and keep outbursts from happening. Here's our expert observations:
Understand the Triggers
Alzheimer's aggression can flare up without warning. There may not be an obvious cause. But many times, there are triggers you can spot before or during a problem. Common ones include:
Discomfort from lack of sleep, side effects from medication, or pain that they can't describe;
The environment around them has loud noises, too much activity, or clutter;
Confusion from being asked too many questions at once, or trying to understand complex instructions;
Feeling like their personal space was invaded, or being touched during bathing or changing of clothes;
Noticing your anger or frustration, and level of stress;
Being criticized or told they were wrong;
Feeling rushed;
Not being allowed to do something or go somewhere;
Having to do something they didn't want to do;
Feeling threatened, confusion about what was happening;
Thinking something that isn't true, like delusions that you are stealing their things.
Changes in Surroundings or Routine
Some everyday examples:
Were they in a noisy room?
Were they with a lot of people they don't know?
Was alcohol, caffeine, or a medication interaction causing part of the problem?
Was there a change in their daily schedule?
Could they be reacting to the frustration or anger in your face or voice?
Were their clothes uncomfortable?
Was the room getting dark, were they experiencing "Sundowning Syndrome?"
How Their Body Feels Might Be to Blame
They may be depressed, and be sleeping more or less than usual, eating more or less than usual, or show little interest in normal activities;
They could be in pain, did they fall and perhaps you didn't notice?
They may feel ill, dizzy, nauseous, or have a UTI.
Could they be cold, hungry, thirsty, tired, or have to go to the bathroom?
Tips to Keep Your Loved One Calm
Once you pinpoint what might be behind the aggression, make an action plan and see if it helps relieve their discomfort and calm them down. If your first plan doesn't work, troubleshoot and try another one. You might need to try several things, until you find the one that works.
If nothing seems to help, and the aggression is constant, then it is time to talk to your loved one's doctor for advice. Check out these articles for additional advice and helpful tips: https://www.webmd.com/alzheimers/guide/manage-sundowning
https://www.visitingangels.com/palmbeaches/articles/conflict-in-communication-can-make-caregiving-for-dementia-difficult/14719
https://palmbeach.floridaweekly.com/articles/ten-tips-for-successful-alzheimers-interactions-3/
Contact Us: It's not easy to care for a person with Alzheimer's disease, especially when they lash out at you. It's completely normal to feel overwhelmed, isolated, or sad. No one knows for sure why it happens, but when it does, using the behaviors we outlined above, and those mentioned in the article links, will help you dial down the reaction and remedy the situation. Our caregivers are specially trained to care for those with dementia and Alzheimer's. Help is just a phone call away at 561-328-7611.
Till Next Time!
Irv Seldin, JD, MA
Owner & President
Visiting Angels of the palm Beaches
This article not intended as medical advice.