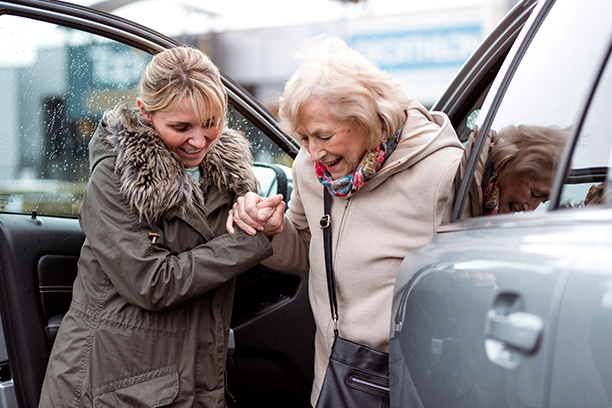 How Does Professional Home Care Assistance Help Seniors in Palm Beach Gardens, FL and Surrounding Areas?
Learn how home care assistance from Visiting Angels helps seniors in Palm Beach Gardens, Jupiter, Juno Beach, West Palm Beach and surrounding areas in Florida remain independent while getting the support they need
If you have a loved one who struggles to care for themselves at home, you may often find yourself concerned about their safety. When you find yourself worrying about your aging parents or family members, Visiting Angels Palm Beach Gardens is here to help.
Our agency is dedicated to providing exceptional home care assistance, which covers everything from personal care to transportation, to elderly and disabled adults throughout Palm Beach and Martin Counties. Our professional caregivers can also provide medication reminders, assistance with light housework and so much more.
How Can In-Home Senior Care Benefit My Loved One?
There are many options for older adults who need assistance with everyday tasks. Originally, seniors chose to move into assisted living facilities or nursing homes because they would receive around-the-clock care and be part of a community of people who were in a similar situation.
However, many seniors are now preferring to live out their golden years at home. Not only does aging in place give them the option to set their own schedule and remain in the home they've lived in for many years, but it also doesn't force them to adjust to new surroundings. This is especially beneficial for adults who have cognitive or memory issues, such as dementia.
However, the decision to remain at home usually means that some level of home care assistance may be required. Age-related difficulties can make it difficult for elderly adults to complete everyday tasks. In addition, family members are worried they may not be able to help their loved one during an emergency, such as a fall.
With in-home senior care from Visiting Angels Palm Beach Gardens, your loved one can receive the support they need on their terms. We will work with your loved one's schedule to assist them with day-to-day activities, monitor them to make sure they stay safe and keep you informed on their well-being regularly. You can have peace of mind knowing your loved one is in good hands thanks to our dedicated caregivers.
How Visiting Angels Palm Beach Gardens Can Help
Choosing professional home care assistance does not have to be a difficult decision. At Visiting Angels Palm Beach Gardens, we are here to answer your questions 24 hours a day, seven days a week, every day of the year.
Because our care plans are completely customizable and designed to fit the needs of your loved one, we can help you decide:
The level of care your loved one needs

The type of care or companionship that can best help your loved one

The schedule that works best for you

And other special considerations
No matter what level of care your loved one needs, we are here to provide. Whether your loved one needs companionship a couple days a week or around-the-clock Alzheimer's care, home care assistance from Visiting Angels can be molded to fit your loved one's health care requirements.
While we are unable to assist your loved one with services that are covered under Medicaid or Medicare, our dedicated caregivers can help your loved one with daily activities to keep seniors safe.
How Can I Get Started with Visiting Angels Palm Beach Gardens?
At Visiting Angels Palm Beach Gardens, we try to make the process of getting started with professional home care assistance as simple as possible. It is best to consider in-home senior care when it becomes clear your loved one requires assistance, not just when your loved one has a bad fall. However, even when your loved one experiences a sudden injury or illness, we can move quickly to provide the care your loved one needs. We can also help your loved one transition to a new location and provide personal bedside assistance at a care facility.
One of our compassionate care coordinators will visit your loved one's home and conduct an in-home consultation. During this meeting, options, costs and scheduling will be discussed. After the consultation, our care coordinators will help develop an adjustable care plan. Then, a caregiver will be assigned to your loved one who matches your loved one's needs and personality. Once care begins, we will provide regular communication with you and your family about your loved one's condition.
To learn more about our agency and schedule a free consultation, call our Palm Beach Gardens, FL office today at 561-264-0866 and ask about how professional home care assistance from Visiting Angels can help your loved one.
Serving Palm Beach Gardens, Palm City, Jupiter, Juno Beach, Hobe Sound, Stuart, West Palm Beach and throughout Palm Beach County and Martin County, FL
Visiting Angels PALM BEACH GARDENS, FL
8645 N Military Trl #407
Palm Beach Gardens, FL 33410
Phone: 561-264-0866