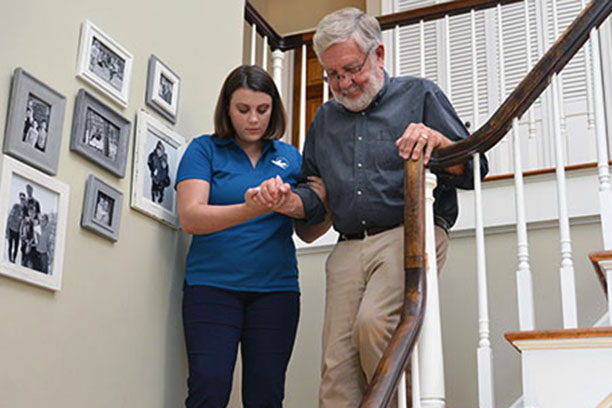 Fall Prevention with Professional In-Home Care for Seniors in Palm Beach Gardens, FL and Surrounding Areas
Falls are an unpredictable – and often devastating – event for many older adults. A single fall can cause all types of injuries such as broken hips, fractures or concussions. Over 800,00 individuals each year are hospitalized due to falls. A lot of those who end up in the hospital after a fall spend months in recovery or in a long-term care facility.
With all that being said, there are precautions seniors and their families can take to reduce the risk of falls and subsequent injuries at home. Visiting Angels Palm Beach Gardens offers a unique fall prevention program to help seniors in Palm Beach Gardens, Palm City, Jupiter, Juno Beach, Hobe Sound, Stuart, West Palm Beach and surrounding areas build strength and confidence, maintain a hazard-free environment and prevent falls in their homes. Thanks to our professional and personalized in-home care for seniors, your loved one can remain safe for years to come, giving you peace of mind.
"Visiting Angels was truly a blessing in helping my dad after he fell. Luckily, he sustained only bumps and bruises, but he was moving slower than usual and needed some assistance getting his day started. We called Visiting Angels for help because they had done such a wonderful job a few years ago when our mother was in a similar situation, and we were happy to find that they once again exceeded our expectations. Dad's caretaker was kind, responsive, and very helpful. I cannot say enough good things about the service we received from Visiting Angels and we were so grateful to find such a kind and caring service in our time of need."
- Melanie P.
Falls Can Cause More than Physical Injury
A fall can not only damage one's physical health but the trauma from it can also cause mental health decline. It can drastically decrease a person's quality of life. Seniors who experience falls at home, especially if they are alone, often become overly cautious, timid, and scared. They may isolate themselves, turn down social invitations or become less active in an effort to prevent future falls.
In addition, a fall can damage a senior's confidence, especially in their mobility, balance and strength. You may notice a loved one walking more slowly, hunched over or shuffling their feet after a fall. While these may be their way of protecting themselves, poor posture, short gait or walking with their head down can actually increase their risk of falls, not protect them against one.
By providing quality in-home care for seniors, Visiting Angels Palm Beach Gardens helps elderly adults throughout the Palm Beach area stay safe and lessens the likelihood of falling.
How Our Fall Prevention Program Can Help Your Loved One Stay Safe
As part of the Fall Prevention Program from Visiting Angels Palm Beach Gardens, our caregivers can come into your loved one's home and assist with the following:
Mobility Assistance
Our caregivers can help your senior loved one get to the bathroom, shower and use the toilet, get dressed and move throughout their home. We can also provide transportation and accompaniment to appointments, help with running errands, meal preparation and light housekeeping
Reducing Fall Risks
This may include securing rugs, clearing entryways of shoes or other clutter, recommending grab-bars be installed in key areas and ensuring walk-ways are well lit. Our caregivers can move kitchen supplies, personal hygiene items, and clothing into drawers and shelves that are more accessible.
Monitoring and Reminders
Mild dementia can cause confusion and issues with balance. With in-home care for seniors with dementia, our caregivers can monitor your loved one throughout the day or night, provide medication and fluid reminders and ensure their safety.
Even the most independent seniors can benefit from the assistance of a trained, compassionate and reliable caregiver.
Contact our Palm Beach Gardens, FL office today at 561-264-0866 to learn how professional in-home care for seniors can help your loved one stay safe!
Serving Palm Beach Gardens, Palm City, Jupiter, Juno Beach, Hobe Sound, Stuart, West Palm Beach and throughout Palm Beach County and Martin County, FL
Visiting Angels
PALM BEACH GARDENS, FL
8645 N Military Trl #407
Palm Beach Gardens, FL 33410
Phone: 561-328-7611
Fax: 561-328-7607