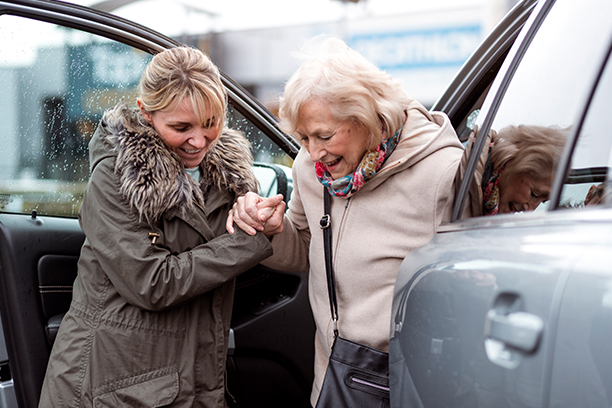 Post-Surgery Recovery Care from Visiting Angels Palm Beach Gardens, FL
With home health care from Visiting Angels, adults can recover from surgery safely in the comfort of their home in Palm Beach Gardens, Jupiter, Juno Beach, West Palm Beach and surrounding Florida communities
It is common for most everyone to need time and support to recover following surgery. After being discharged from a hospital, you will likely resume your recovery at home and need a home care provider to assist you as you get back on your feet.
At Visiting Angels Palm Beach Gardens, we offer essential personal home health care services in Palm Beach Gardens, Juno Beach, West Palm Beach, Jupiter and surrounding communities in Florida. Our professional caregivers are able to help throughout the recovery process and significantly reducing the risk of hospital readmission.
Post-Surgical Recovery Care is Not Just for Seniors!
Our caregivers are able to provide in-home care for adults of all ages following a variety of surgeries - not just seniors! We focus on providing assistance with tasks of daily living such as bathing, getting dressed, preparing meals, using the bathroom and getting to follow-up appointments.
"Visiting Angels did such a great job helping my grandmother after she broke her hip and required surgery. My grandmother is blind and really needed special attention. They watched over her during her hospitalization at Jupiter Medical Center and helped her throughout her rehab stay at Chatsworth. They even helped her to transition back into her home on the Treasure Coast. Highly recommend these Angels!"
- Caitlin H.
Home Health Care as Part of Your Recovery Plan
Your medical team may require that you have a care plan in place prior to your surgery. Your doctor will be able to explain the types of things you may need help with the day of your surgery, as well as the days and weeks that follow. Once you know what your post-op care looks like, simply call our office in Palm Beach Gardens, FL to arrange the home health care services your loved one needs to recover safely and comfortably.
We're experienced in providing professional at-home recovery care for all adults - not just seniors. We understand that this type of care is personal, which is why we train every caregiver to provide post-op care with respect, patience and professionalism.
Some types of surgeries we frequently provide post-op recovery care for include:
Plastic surgeries and cosmetic procedures like face lifts, rhinoplasty and liposuction
Dental and orthodontic procedures
Orthopedic procedures on knees, hips, and shoulders
Vision correction surgeries
Visiting Angels Palm Beach Gardens is the preferred home care agency for plastic surgeons in Palm Beach County like:
Dr. Goldberg is one of the top female Board Certified cosmetic plastic surgeons in the country. She has one of the fastest growing plastic surgery practices in the United States and an exceptional reputation throughout Florida.
Led by an award-winning team of board certified doctors, Hass Plastic Surgery & MediSpa provides a variety of medical services in one convenient location.
How Visiting Angels Helps Families in Palm Beach Gardens and Surrounding Areas
With post-surgery recovery care at home from Visiting Angels Palm Beach Gardens, you or your loved one will get all the help and support needed to recover from surgery. As we understand that each client has a different set of needs, we provide personalized plans and schedules of care.
Before we bring a caregiver into your residence, we will arrange for an in-home meeting where our care coordinators will talk to you and propose a care plan that is just right for your current requirements.
Our home health care services include assistance with a variety of daily tasks, including:
Meal Preparation - Eating a healthy, well-balanced diet packed in valuable nutrients is essential during recovery. Our caregivers can also go grocery shopping, set the table, and wash dishes after a meal.
Mobility Assistance - We can help you move around the home and look for ways to minimize the risk of falls and fall-related injuries.
Bathing and Grooming Assistance - Our home care providers will help your loved one maintain proper personal hygiene and provide assistance with dressing, bathing, and toileting.
Housekeeping - Our care plans include assistance with light housekeeping chores and tasks. Our caregivers can clear the clutter on the stairs and in the hallway, take out the trash, sweep, clean countertops, and more. This is helpful for those who can't complete these tasks independently due to mobility restrictions during the recovery process and those at an increased risk of falling while recovering.
Medication Reminders - We can help your loved one manage their medication schedule by providing reminders.
If you want to learn more about our home health care services or schedule your free in-home consultation, please contact our Palm Beach Gardens, FL office at 561-328-7611.
Serving Palm Beach Gardens, Palm City, Jupiter, Juno Beach, Hobe Sound, Stuart, West Palm Beach and throughout Palm Beach County and Martin County, FL
Visiting Angels
PALM BEACH GARDENS, FL
8645 N Military Trl #407
Palm Beach Gardens, FL 33410
Phone: 561-328-7611
Fax: 561-328-7607