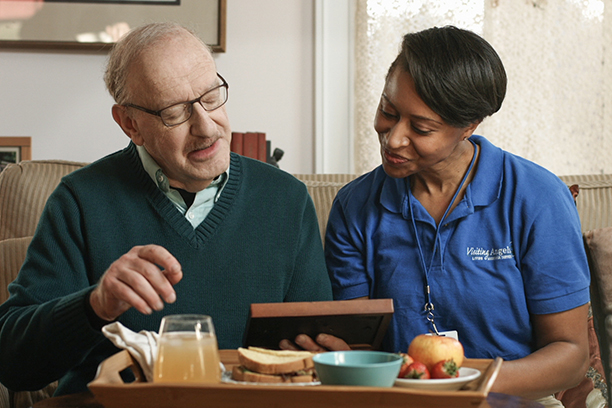 How Alzheimer's Care Services Can Help Manage Anger
If you have a parent or loved one who is living with Alzheimer's disease, you may have been surprised to discover that anger is a common issue for sufferers of Alzheimer's and dementia. The further along your loved one falls in the progression of their disease, the more you may have to deal with anger issues. Learning how to detect an approaching outburst and defuse it are valuable skills for any caregiver to have. Anger prevention techniques and coping strategies can make caring for a loved one with Alzheimer's easier. Care services from Visiting Angels® Powder Springs can also take the strain off family caregivers and provide you with a much-needed break.
Common Causes of Anger in Alzheimer's Patients
There are several common causes of anger in Alzheimer's patients. Physical triggers such as pain, nausea, fatigue, and frustration can cause your loved one to become angry. Emotional triggers such as boredom or even over-stimulation can trigger anger in seniors. Finally, the leading cause of aggression in Alzheimer's sufferers is confusion. When your loved one loses their train of thought, confuses a memory, or has to deal with unexpected environmental changes, they may become confused and lash out. Anger is a tough side effect of Alzheimer's disease, but Visiting Angels Powder Springs can provide experienced Alzheimer's care services to help.
Preventing Anger with Alzheimer's Care Services
Once you have developed a solid understanding of your loved one's anger triggers, it will be easier to avoid them and prevent angry outbursts. However, if your loved one does lash out with verbal or physical aggression, it is good to know how to handle things. First, if you can locate the source of their anger, you may be able to stop the situation from escalating. Next, respect their personal space and never use force. Speak in soothing tones and, when possible, remove yourself from the situation so you both have time to calm down. Finally, be compassionate and reassuring. Accept that they are feeling frustrated and try to be sympathetic. Care service professionals from Visiting Angels Powder Springs are well-versed in caring for seniors with Alzheimer's and can provide the dignified care your loved one deserves.
Call Visiting Angels Powder Springs today to learn more about our Alzheimer's care services and schedule a free consultation.
Serving Marietta, Austell, Powder Springs, Dallas, GA and Surrounding Areas
Visiting Angels
POWDER SPRINGS, GA
110 Evans Mill Dr #801
Dallas, GA 30157
Phone: 770-222-7388
Fax: 678-324-7612