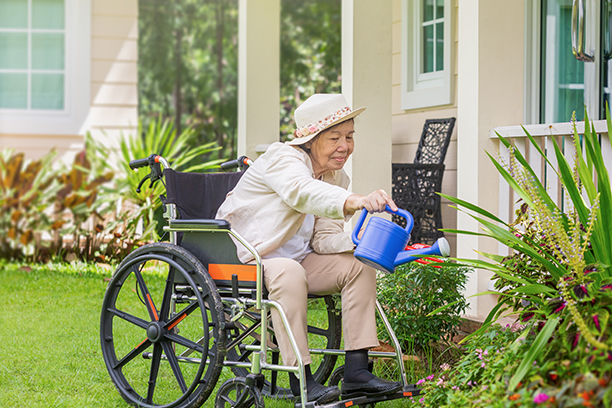 Visiting Angels of Powder Springs Home Care Assistance in Dallas, GA
Visiting Angels of Powder Springs Believes Support is Essential When Caring for Someone With Alzheimer's. That's Why We Provide Home Care Assistance For Seniors
Over 5 million people live with Alzheimer's according to the Alzheimer's Foundation of America. Causing a slow decline in memory, reasoning, and thinking skills, Alzheimer's is a fatal brain disease. Yet, while a diagnosis can be both frightening and overwhelming, there are several things you and your loved ones can do to make it through this health challenge. If you believe that you or a loved one is displaying symptoms of Alzheimer's disease, it is important to seek a medical assessment immediately to better the quality of life and adopt a plan for home care assistance.
Keep In Mind These 10 Warning Signs of Alzheimer's Disease:
Difficulty completing familiar tasks: whether it is at home or work, there will be noticeable difficulties completing tasks that are familiar.
Memory loss: if there is memory loss that disrupts daily life, such as not remembering names of people or places, problems remembering where things go, and issues committing new information to mind, it's a red flag.
Confusion about time and place: the general passage of time, whether it is dates or seasons, is something that people with Alzheimer's struggle with every day.
Challenges with planning or problem solving: familiar tasks like paying monthly bills or following a simple recipe, things that were easy to accomplish before, will become a challenge due to difficulty concentrating.
Word problems with speaking or writing: trouble following conversations or directions, as well as completing sentences and finding the right words, are signs of Alzheimer's.
Spatial relationships and visual images cause concerns: look for difficulty judging distances, reading, and determining contrast and color.
Mood or personality changes: signs may include depression, anxiety, mood swings, disinterest in favorite activities or hobbies, withdrawal from social life, as well as suspicion.
Losing the ability to retrace steps and misplacing things: individuals displaying signs of Alzheimer's may accuse people of stealing as they start to misplace their belongings.
Poor decision-making skills and judgment calls: there may be less attention to grooming and hygiene, as well as issues with monetary scams or mishandling of finances.
Withdrawal from social or work activities.
If you or your loved one shows any of these warning signs, it's imperative to act immediately and contact a physician to be assessed for Alzheimer's. While a few of these signs may be related to the normal aging process, please keep in mind that Alzheimer's is not part of this normal process and is instead a disease that needs attention. Our home care assistance can help.
Friendly, Reliable, Compassionate Care Programs
Contact our office to find out about our home care assistance or to explore care options to ensure dignified, compassionate care for individuals with dementia and Alzheimer's. With home care assistance, you'll know that you are not alone - Visiting Angels of Powder Springs is here to help you.
Serving Marietta, Austell, Powder Springs, Dallas, GA and Surrounding Areas
Visiting Angels
POWDER SPRINGS, GA
110 Evans Mill Dr #801
Dallas, GA 30157
Phone: 770-222-7388
Fax: 678-324-7612