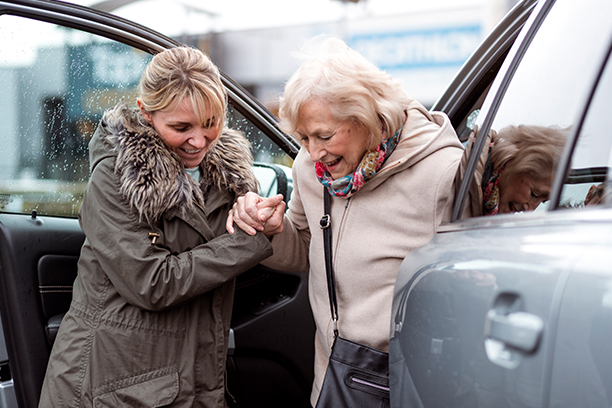 Elderly Care for Someone with Alzheimer's in Waldorf, MD
Visiting Angels Provides Elderly Care in Waldorf, MD, and the Surrounding Area
The Alzheimer's Foundation of America shared that as many as 5.1 million Americans may be personally affected by Alzheimer's disease. Alzheimer's is a brain disease that causes a slow decline of one's memory, thinking, and reasoning skills. Being diagnosed with this fatal disease can be overwhelming and devastating to a person and their family—thankfully, there are steps available to assist during this challenging time.
There is no cure for Alzheimer's, but scientists have found treatments and therapies to help slow the onset of dementia symptoms while also improving the quality of life for those struggling with the disease. If you are concerned and think your loved one is showing signs of Alzheimer's, don't wait it out; it is crucial to see a physician once you notice symptoms/signs. If there is a diagnosis made, it is best to get an elderly care team in place as soon as possible.
10 Warning Signs of Alzheimer's
Memory loss that disrupts daily life

: When a loved one is having trouble remembering recent events, names, where things go, and other new information.

Challenges in planning or solving problems:

When individual struggles to follow a familiar family recipe, lose track of regular monthly bills, or show difficulty concentrating, these are all signs that Your loved one should take seriously.

Difficulty completing familiar tasks at home or work: When regular tasks around the house or work become challenging to finish.

Confusion about time and place:

Alzheimer's patients tend to lose track of dates, seasons, and the passage of time.

Trouble understanding visual images and spatial relationships:

Keep an eye out for any signs of difficulty while reading, judging distance, or determining color or contrast.

New problems with words in speaking or writing:

If you notice a loved one struggling to find appropriate verbiage, completing sentences, or following directions or conversations, you should take them to be evaluated.

Misplacing things and losing the ability to retrace steps:

Alzheimer's patients often put things in random places and then accuse others of stealing from them.

Decreased or poor judgment when making decisions:

Monetary scams and less attention to grooming and hygiene may be persistent issues.

Withdrawal from work or social activities. Those struggling with Alzheimer's tend to withdraw themselves from large social gatherings with friends or family.

Changes in mood or personality

: If you notice increased depression, fearfulness, anxiety or suspicion, rapid and persistent mood swings, withdrawal, and disinterest in usual activities, you may be seeing significant signs of Alzheimer's.
If you or a loved one is showing any of the above signs, evaluation/screening by a physician is crucial. It is essential to know that this disease and its side effects are not a part of the normal aging process. Alzheimer's patients don't always experience all of these symptoms; regardless of the symptoms they are showing, they will gradually increase and become more persistent. Elderly care is an excellent tool for supporting a loved one struggling through Alzheimer's and its side effects.
Alzheimer's Support is the Most Important Resource
Once diagnosed with Alzheimer's by a physician, it's best to be proactive in the decision-making process regarding elderly care. While elderly care is an excellent option, here are some other primary ways to help a loved one with Alzheimer's.
Educate yourself about the disease.

If you research and read up about the condition, you can be better prepared.

The Alzheimer's Foundation of America

and the

Alzheimer's Association

are two great resources.

Take care of financial, legal, and long-term care planning issues.

Figure out any expectations related to future care and end-of-life decisions.

Employ cognitive stimulation.

Stimulating the brain with music, word puzzles, and memory games can be beneficial while providing a positive experience for the patient and caregiver.

Arrange respite and regular professional care.

While you may decide that you want to be the primary caregiver for your loved one, it is still vital to have extra help. With elderly care from Visiting Angels, respite services services are available so that you can take a short break or go on a vacation. It also is helpful to introduce an extra caregiver in the early stages of Alzheimer's so that the patient can avoid becoming upset or overwhelmed later in their diagnosis. When searching for in-home help, try to find someone with Dementia Care Professionals

of America training. Visiting Angels hold the nation's leading network for quality, compassionate home care, providing this training to its team members.

Build a support system.

Being a caregiver is challenging. Don't fight through the pain alone; reach out for help and make sure to make time for your own mental and physical health. There are plenty of hospitals and aging departments that offer free support groups; there are also sites like

National Family Caregivers Association

and

Caring.com

that are great tools.
If you are searching for Alzheimer's assistance or support, don't feel alone! Visiting Angels are here to offer elderly care for our local clients and their families. Call us at 800-365-4189 for more information about our elderly care options. If you'd like more information sent to you, request Alzheimer's elderly care here.
Contact our agency by contacting our agency or by giving us a call at 301-281-6866
Serving the Tri-County Area of Charles, St. Mary's and Calvert Counties Maryland
Visiting Angels
SOUTHERN MARYLAND
50 Post Office Rd #201
Waldorf, MD 20602
Phone: 301-396-8400
Fax: 301-396-8500