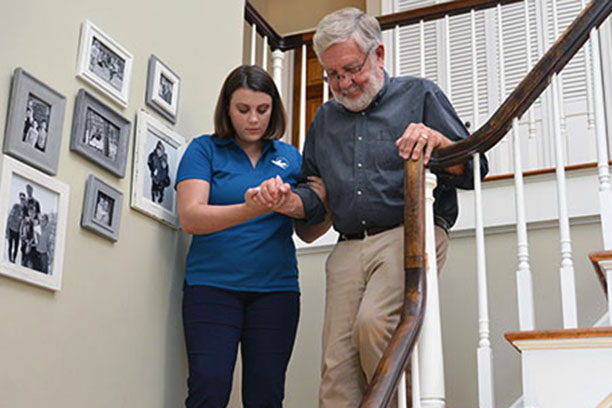 Personal Care Assistants Help Prevent Falls in Greater Waldorf, MD
Our personal care assistants educate and train seniors to keep themselves safe at home in our fall prevention program. It is possible to lessen the risk of elders injuring themselves by preventing falls. The most common reason for seniors to lose their independence is due to these types of accidents, rendering fall prevention a vital element of the process of aging in place.
Visiting Angels Employs Quality Personal Care Assistants to Prevent Falls in Waldorf, MD, and Surrounding Areas
At Visiting Angels of Waldorf, our personal care assistants are committed to assisting seniors with our in-home care services as they age, allowing them to stay in the environment where they feel the safest, happy, and comfortable. As a result, fall prevention is an essential element of our genetic makeup.
According to the CDC, seniors are more prone to falling than younger ones, with one in every three seniors suffering a severe fall each year.
These falls are due to several risk factors that are more prevalent among elderly adults, which are listed below:
Strength has been reduced
Inadequate coordination
Mobility is restricted
Reduced visual acuity
Deafness and hard of hearing
Joints that are stiff or uncomfortable
Complications relating to one's health
Disorders of the brain
Seniors are more likely to experience a significant injury when falls occur. Frequently, these accidents can have life-changing or even life-threatening consequences as a result.
Hip fractures are especially dangerous. The rehabilitation time for a hip fracture can be up to 12 months, and it may necessitate the use of transitional care. There is also a considerable risk of life-threatening difficulties associated with hip fractures. Many older persons lose their autonomy due to a hip fracture, which affects the majority of those who suffer from it. The good news is that seniors can prevent most falls.
Visiting Angels of Waldorf's Safe and Steady program and personal care assistants can help your loved ones in lowering their risk of falling at home, which is the most prevalent place for slips, trips, and falls.

How to Prevent Seniors from Falling at Home
More than 75% of dangerous falls happen in or around the house. As a result, many falls can be avoided by taking precautions at home.
Visiting Angels of Waldorf's Safe and Steady Fall Prevention Resource Guide can assist you in identifying risk factors in your loved one's home and taking steps to lessen the likelihood of a fall occurring.
The following are some of the essential topics covered in this guide:
Factors in the environment that enhance the danger of falling at home
Measures you can take to reduce the threat of falling in your home
Changes in design that can lessen the threat of a senior falling at home
Seniors' fall risks might be reduced even further by making lifestyle adjustments
The Safe and Steady guide contains a list of simple house changes that might help your loved one avoid falling at home. A 59-point home safety checklist is also included.
Free "Safe & Steady

®

Fall Prevention Resource Guide"
Begin Your Care by Contacting Visiting Angels
Our dedication to preventing falls extends to our home care services. Depending on the sort of in-home care we are providing, our caregivers can lower your loved one's risk of falling in various ways.
With companionship care, our personal care assistants can help your loved ones in keeping their homes secure and tidy, as well as help them with daily duties that may put them in danger of falling. Our home care services can assist with activities such as dressing, grooming, and mobility if your loved one's overall fitness puts them at risk of falling. Fall prevention is also a significant aspect of many other Visiting Angels programs, such as Alzheimer's care, dementia care, and our Ready-Set-Go Home transitional care.
Contact the Visiting Angels of Waldorf for more information about how our personal care assistants can help!





Serving the Tri-County Area of Charles, St. Mary's and Calvert Counties Maryland
Visiting Angels
SOUTHERN MARYLAND
50 Post Office Rd #201
Waldorf, MD 20602
Phone: 301-396-8400
Fax: 301-396-8500