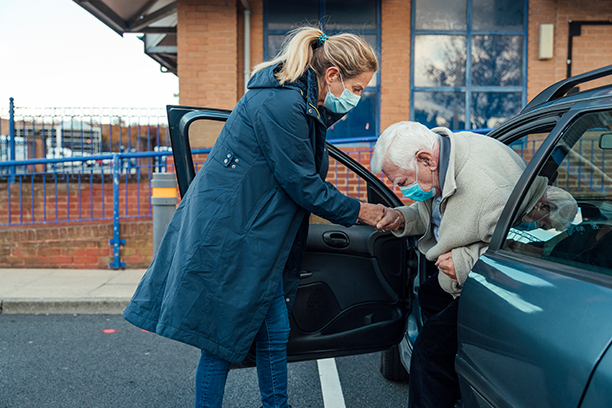 Alzheimer's Care Services in Waldorf, MD
In-home care for Alzheimer's is available in the Tri-County Area of Charles, St. Mary's, Calvert Counties, and the Surrounding area.
Because of our superior caregiver training, our Alzheimer's care for elders assures that your loved one will always receive the best possible care.
They are also caring, experienced, and compassionate in-home care specialists who will work to ensure that your loved one is secure, happy, content, and stress-free at any time of day or night.
You can have the comfort of knowing that your loved one is in safe hands any time, day or night. 24-hour senior care is provided by Visiting Angels Waldorf, a private home care organization in Waldorf, MD. In addition, we offer various comprehensive aged care packages that cover a variety of memory issues and dementia care services to our clients.
What to Expect From Our Program
Knowing that a loved one has Alzheimer's disease may be highly distressing, and we understand how you may be feeling. We recognize that this is draining on an emotional, physical, and even time-management level.
However, before you decide to transfer your family member to a local nursing facility, remember that seniors with Alzheimer's disease are particularly vulnerable when they are placed in uncommon conditions. Moving to a new location can cause feelings of worry, agitation, bewilderment, and anxiety in older individuals.
The most effective method of accomplishing this is to contact a in-home care professional from Visiting Angels Waldorf. Our senior care professionals have undergone thorough background checks and have received professional training.
You are now free to concentrate on your work and personal life without needing to be concerned about the well-being of your loved one. Our Alzheimer's care program includes an after-hours phone line, routine check-ups, and constant monitoring to guarantee that your loved one is in good hands and is receiving quality in-home care.
What to Do to Get Started
With our care for the elderly program, we will create a personalized care plan for each client that takes their symptoms, daily routine, and personality into mind. Then we'll pair your family member with a caregiver who will ensure that they have a productive and comfortable interaction.
Contact Visiting Angels Waldorf at 301-281-6866, and we will be there to satisfy the expectations of your loved one as quickly as possible. You have the option of scheduling the meeting at a time and location that is convenient for you. For further information, don't hesitate to contact us to arrange a no-obligation meeting and evaluation.
Serving the Tri-County Area of Charles, St. Mary's and Calvert Counties Maryland
Visiting Angels
SOUTHERN MARYLAND
50 Post Office Rd #201
Waldorf, MD 20602
Phone: 301-281-6866
Fax: 301-396-8500