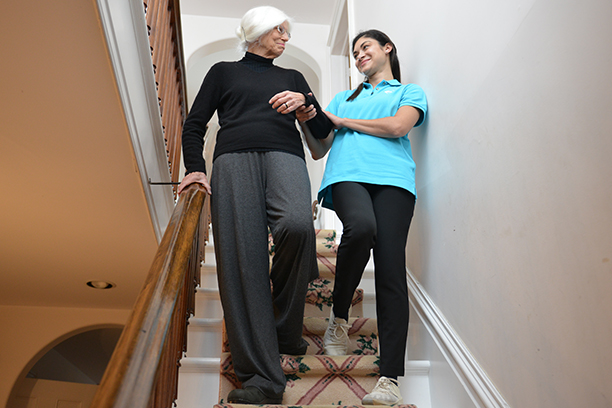 Respite Care in Southern Maryland
Do you manage the daily care for an aging or disabled loved one? You don't have to be the only one. Visiting Angels® Southern Maryland brings a range of flexible respite care options to local families, so you can ease your caregiving duties while getting some time away. It's a great way for your loved one to receive friendly companionship and supportive care from experts you trust.
Why Choose Respite Care in Southern Maryland
Simply put, respite care from Visiting Angels Southern Maryland can bring balance back to your life while making sure that your family member gets the dedicated care they need. Family caregivers who take care of loved ones often neglect their own well-being or set their lives aside in other ways. A professional caregiver for your loved one means you'll have time to yourself. It can reduce your stress and anxiety, and make your time with your family member more special. In turn, your loved one will always have the support they require to live with comfort and ease in their own home.
Respite Care from Visiting Angels Southern Maryland
With Visiting Angels Southern Maryland, you'll get a care plan that's specifically tailored to your loved one. We know that care can be complicated, and we aim to make it as simple, streamlined, and convenient as possible. If your loved one's care needs change, we can update their plan. If you need to be away unexpectedly, we can supply more help. Whatever you need, you'll have the support of Visiting Angels Southern Maryland.
Visiting Angels Southern Maryland has the following care options available for you and your family:
Temporary Care. For one-time care, our caregivers can support your loved one while you're away.
Part-Time Care. For ongoing care, we can offer flexible weekly care to your family member, which can be updated as needed.
Support Care. For more intensive assistance, one of our professional caregivers can work alongside you to manage and share the daily care of your loved one.
Southern Maryland's Choice for Respite Care
One of the benefits of respite care from Visiting Angels Southern Maryland is our caregivers. Our caregivers can offer a comprehensive range of non-medical, compassionate care. Not only are they highly knowledgeable, but they can also offer gentle, supportive companionship for when your loved one feels anxious or upset. You'll get full input in the caregiver selection process, so you can always have peace of mind, knowing your family member is getting the care they require.
Bring balance to your life, and to your loved one's care. Contact Visiting Angels Southern Maryland today to learn how to set up a respite care consultation.
Serving the Tri-County Area of Charles, St. Mary's and Calvert Counties Maryland
Visiting Angels Southern Maryland
50 Post Office Rd #201
Waldorf, MD 20602
Phone: 301-396-8400