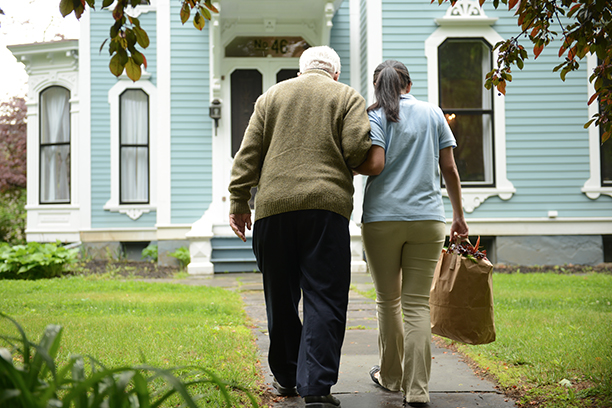 Respite Services for Families in Waldorf, MD, and Surrounding Areas
Are you responsible for providing routine care for an elderly or disabled loved one? If that's the case, you don't have to go it alone. Local families can choose from various flexible respite programs Visiting Angels of Waldorf provides, giving family caregivers time to themselves. Your loved one may receive excellent care and company from professionals you can rely on with the help of Visiting Angels.
Visiting Angels Provides Quality Respite Services in Waldorf, MD, and the Surrounding Areas
Visiting Angels of Waldorf brings balance to their lives by assuring our clients' families that they have a capable home care provider caring for their loved ones while they are gone. Family caregivers frequently neglect their needs or fail to live their own lives in various ways. A home care provider is a fantastic method to give yourself some "me time," and caregivers may help you cope with any stress or worry you may be experiencing as you provide care for a loved one. Your loved one will continue to live peacefully in their home while you focus on taking care of yourself.
Respite Services from Visiting Angels of Waldorf
When you engage with Visiting Angels of Waldorf, you get to decide on the care plan and services for your loved one. We collaborate with you to develop an individualized care plan that is as easy to understand as possible and fits all of your senior's needs. Your seniors' program may vary as their needs alter. A representative from Visiting Angels of Waldorf will be available to help with anything you or your loved one might require.
You and your family can choose from the following respite service choices at Visiting Angels Waldorf:
Short-Term Care: While you're gone, a caregiver will fill in for you and provide one-time care.
Contingent Care: A caregiver will offer adaptable, continuous care that you may change as necessary.
Encourage Care: Caregivers give more extensive aid to manage and divide the daily care of your loved one.
Choosing Waldorf for Respite Services
Access to our caregivers is crucial to Visiting Angels of Waldorf's respite programs. Our highly skilled caregivers provide a wide variety of holistic, compassionate care services. Along with being informed, they are kind and helpful to all their clients. You have complete control over the caregiver selection, giving you peace of mind that your loved one is getting the finest care possible.
Contact us today if you and your family could benefit from our senior care services and schedule your free in-home consultation!


Serving the Tri-County Area of Charles, St. Mary's and Calvert Counties Maryland
Visiting Angels
SOUTHERN MARYLAND
50 Post Office Rd #201
Waldorf, MD 20602
Phone: 301-396-8400
Fax: 301-396-8500