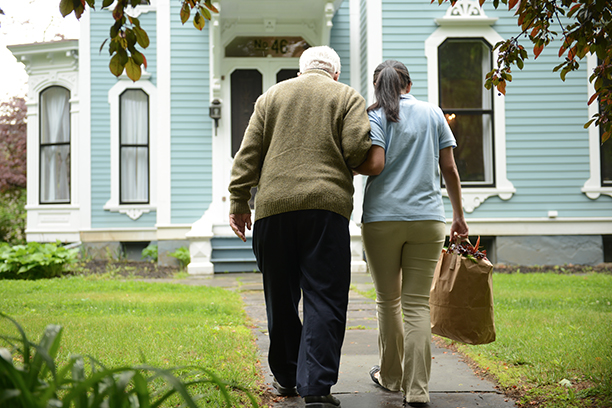 Visiting Angels Offers Certified Palliative Care to Seniors in Waldorf, MD, and Surrounding Areas
Having a family member show signs of decreasing health might be one of the most heartbreaking things that can happen to anyone at any time. However, life goes on, and if you want to provide your loved one with the greatest elder care at-home services possible, obtaining care is the best option available.
Visiting Angels' Certified Palliative Care at Home Improves the Overall Quality of Life for Our Clients in Waldorf, MD, and Nearby Areas
The term "hospice care" is frequently used interchangeably with the term "palliative care." While hospice care and palliative care are based on the same concepts, which are to relieve suffering and improve the overall quality of life, hospice care is limited to end-of-life care. This care is concerned with bringing comfort to a person regardless of how long they have left to live.
Our Certified Care Program, available at Visiting Angels Waldorf, helps us provide senior services. This program, based on traditional concepts of care, improves the quality of life for those who receive it by providing them with specialized help.
Services Made Available Through This Program
Our experienced caregivers are trained following the principles of uttermost care, allowing them to provide supportive, holistic, and comforting palliative care services to their clients. We must provide care to promote hope and healing in mind. As a result, the benefits of elder care at home available through this program are listed below.
Emotional support: Our empathetic caregivers are well-versed in delivering the appropriate care to clients suffering from depression, anxiety, loneliness, and stress, among other conditions.
Physical care: Because our caregivers have been trained to notice and respond to physical indications, they can deliver the best possible care to our older customers.
Spiritual care: Our caregivers assist their clients in regaining their peace of mind and hope, allowing them to find consolation in the face of the trials and hardships that life throws at them.
We meet social requirements by assisting in the development of connections. And because we consider our clients to be members of our family, we provide them with the utmost respect and consideration.
What to Do to Get Started
It is not difficult to get started with our in-home elder care services. Contacting us at 301-281-6866 or completing our intake form online are the first steps you should take once you have decided to seek palliative care for your loved one. We may arrange for one of our care coordinators to come to your location to guide you through the program and help you gain peace of mind in the process.
Our team of caregivers is ready to assist. Call us today to learn more about how we can help your family with our senior care services.


Serving the Tri-County Area of Charles, St. Mary's and Calvert Counties Maryland
Visiting Angels
SOUTHERN MARYLAND
50 Post Office Rd #201
Waldorf, MD 20602
Phone: 301-396-8400
Fax: 301-396-8500