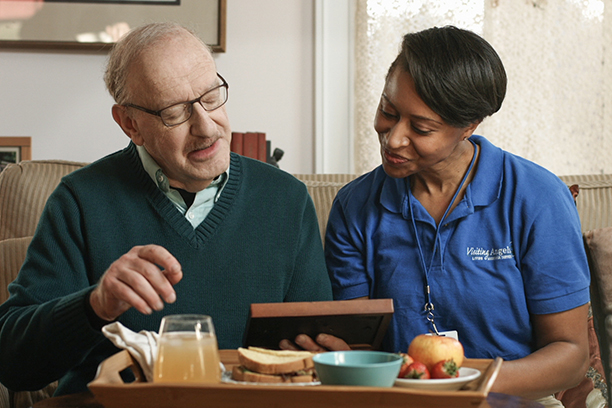 Home Care in Dunkirk, MD
Your elderly loved one may need more of your assistance as they age in order to maintain their current level of autonomy and quality of life. Visiting Angels of Waldorf is available to serve you or an aging loved one who lives in the greater Dunkirk, Maryland region and needs assistance with routine tasks while living at home.
Quality Home Care for the Elderly in Dunkirk, MD, and the Surrounding Areas
Visiting Angels of Waldorf is a comprehensive home care provider that serves Dunkirk, Maryland. Our whole care staff is dedicated to helping our geriatric patients maintain their dignity and independence while they age in place.
Here are some of the home care services we provide to help your loved one:
Support with day-to-day hygiene activities, including bathing, dressing, and grooming
Putting together healthy and nutritious meals
Medication Reminders
Incontinence care
Simple housekeeping tasks
Transportation to and from appointments, errands, and events
We provide socialization and emotional support as part of our companionship services to assist our aging population in combating loneliness and isolation.
Help for the Entire Family
Visiting Angels of Waldorf also offers respite care to provide primary caregivers with a break. Since caring for an aging relative may be a full-time job, it is essential that caregivers prioritize their own health and well-being in addition to that of their loved ones. Visiting Angels of Waldorf allows caregivers time to rest and rejuvenate while their loved one continues to get top-notch attention.
Assistance from Our Angels with Individualized Care Programs
Individualized care is one of the things that sets Visiting Angels of Waldorf apart from other organizations. In order to provide the best possible care for our clients, we work together with them and their loved ones to develop tailor-made home care plans that take into account each client's unique needs and preferences. Each patient will get the specialized care they need with this approach.
The Contributions of Our Caregivers
Our caregivers have years of experience and training, with a focus on treating the elderly with respect and compassion. They understand the challenges that come with being older and are committed to helping their customers overcome them.
All of our home care providers are locals with deep roots in the Dunkirk, MD community. Our caregivers like to keep your loved one involved in the community by doing activities such as going to Ward Farm Recreation and Nature Park for some exercise and fresh air, assisting them with picking up their prescriptions at CVS, or providing them with transportation to and from appointments at Southern Maryland Oral & Maxillofacial Surgery.
Reach Out to Visiting Angels of Waldorf
Home care is provided by Visiting Angels of Waldorf, which serves the larger Dunkirk region in Maryland. Each patient receives the attention they need to maintain their health and safety, thanks to our tailored treatment regimens. Because of our commitment to kindness and consideration, families can trust us to provide excellent care for their elderly loved ones.
Call today to arrange a free in-home evaluation and find out more about our senior care services.


Serving the Tri-County Area of Charles, St. Mary's and Calvert Counties Maryland
Visiting Angels
SOUTHERN MARYLAND
50 Post Office Rd #201
Waldorf, MD 20602
Phone: 301-396-8400
Fax: 301-396-8500