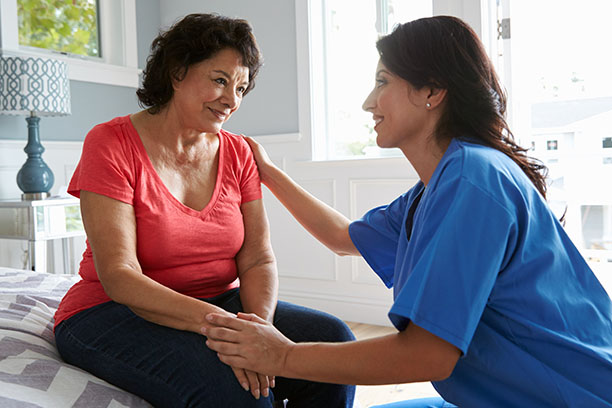 Dementia Care in the Tri-Cities
When your aging mom or dad is diagnosed with dementia, you may feel scared and unsure about the future. Will your mom be able to remain at home? Will your father be safe while you are gone during the day? These questions and many more are common among family members of the recently diagnosed. Visiting Angels Tri-Cities is here to support your family and care for your loved one with our specialized dementia care services. When you contact our agency for care, we can help answer your questions and provide assistance to keep your loved one safe at home.
Specialized Dementia Care
Visiting Angels Tri-Cities is experienced at providing dementia care to seniors throughout the area. Our specialized care can alleviate many of the struggles which dementia sufferers face, increasing their quality of life and making the day to day more enjoyable. Dementia care professionals from Visiting Angels Tri-Cities can assist your loved one with daily tasks such as medication reminders, dressing and bathing, transportation to physician appointments, meal preparation, and dietary monitoring. This is just a small sampling of the ways in which we care for our clients.
Visiting Angels Tri-Cities Lends Valuable Support
Dementia care from Visiting Angels Tri-Cities cares for your loved one so you can focus on other important aspects of your life. We understand you want to be there to help your loved one as much as possible. With the various commitments you face, you may find you don't have enough hours in the day to provide all of the assistance your loved one requires. We want you to know it's ok. Visiting Angels Tri-Cities has skilled memory care professionals who are dedicated to helping seniors with dementia. We can take a weight off your shoulders and provide your loved one with the compassionate and dignified care they deserve.
Continuous Monitoring of Dementia Care Services
Visiting Angels Tri-Cities utilizes a system of continuous monitoring of our dementia care services. We want to ensure your loved one receives high-quality care at all times. We do this by calling regularly and occasionally stopping by to check in and see how things are going. You can also call us at any time, day or night.

Call Visiting Angels Tri-Cities today to discover the many ways in which dementia care from our agency can ease your mind while caring for your loved one. We provide dementia care to Johnson City, Kingsport, Bristol, Blountville, Colonial Heights, Gray, Watauga & the surrounding communities.
Serving Johnson City, Kingsport, Bristol, TN and the Surrounding Communities
Visiting Angels
TRI-CITIES TENNESSEE
321 Old Gray Station Rd #3
Gray, TN 37615
Phone: 423-207-0241