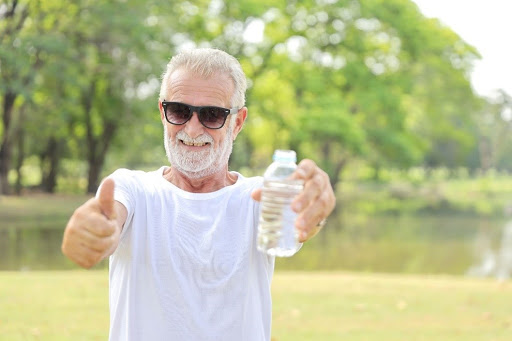 Staying Safe in the Heat
Summertime means longer days and hotter days. While it's natural to want to spend more time outdoors, especially after spending so much time inside this past year, spending too much time in the heat can be dangerous. As you plan your summer activities, be sure to learn the signs of heat dangers and ways to keep yourself safe in the heat.
The Dangers of Heat
Spending time outdoors is great, but spending too much time outside in the heat comes with consequences.
Dehydration- When you lose more fluids, usually through sweat and urine, than your body takes it, it causes dehydration. Signs of dehydration include feeling thirsty, dark urine, dizziness, and dry mouth.
Heatstroke- Heatstroke occurs when the body temperature exceeds 104 degrees Fahrenheit. It can cause you to faint or become unconscious. It also causes flushed skin, confusion, or a slow or rapid pulse. Heatstroke is a medical emergency. If you're experiencing signs of a heat stroke, seek medical attention immediately.
Heat Syncope- If you're active in hot weather, you may experience sudden dizziness, also referred to as heat syncope. Those on beta-blockers have a higher risk of heat syncope.
Heat Cramps- You may experience painful muscle tightening throughout your body if you're physically active in the heat. Heat cramps can also cause your body to feel cold, even if you feel hot.
Heat Edema- Sometimes, spending too much time in the heat can cause heat edema, swelling your feet and ankles. Elevating your legs should reduce the swelling, but if the swelling persists, talk to your doctor.
Sunburn- Too much direct sunlight can cause sunburn. Mild sunburns turn the skin red and can be sore to the touch. More extreme sunburns can cause itchiness, blistering and bleeding. Excessive sunburns can lead to skin cancer.
Tips for Staying Safe in the Heat
During the summer months, use these tips to stay safe in the heat.
Stay Hydrated
When you're outside on a heat day, your body will sweat to keep itself cool. When you sweat, you're losing more fluids than average. And if you lose too many fluids, you can become hydrated. Keep your body hydrated by drinking water throughout the day. Also, avoid too much caffeine or alcohol on a hot day as those substances dehydrate your body faster.
Wear Sunscreen
Keep your skin safe with sunscreen. You'll want to find sunscreen with at least 30 SPF and be sure to reapply it about every hour, especially if you're sweating or in water. You should apply sunscreen to any skin exposed to the sun. This includes the soles of your feet, the palms of your hands, and your face. Wearing a hat with a wide brim is also suitable for keeping your face and your scalp safe from the sun.
Stay out of Direct Sunlight
If you're spending time outside on a warm day, try to stay out of direct sunlight. Look for places with lots of shade, either from a tree or an outdoor pavilion. If your location doesn't have natural shade, create your own shade with a large outdoor umbrella or pop-up tent.
Stay Inside During Extreme Heat
Temperatures in Aiken can get pretty warm. On days when the sun is shining and temperatures are rising past the 80-degree mark, consider spending the day inside. If you do need to venture outside, make sure to bring water to keep yourself hydrated. Also, be sure to dress appropriately in breathable clothing to stay cool.
Have a Cool House
On hot days, spending time inside won't be beneficial if your house is overheated. Make sure your home stays cool with air conditioners, fans, and other cooling devices. If you need help paying for an air conditioner, the federal Low-Income Home Energy Assistance Program (LIHEAP) helps adults 65 and older cover the cost of air conditioners and utility bills. To contact your state's LIHEAP program, call 1-866-674-6327.)
If you or an aging loved one needs help during these summer months, the team at Visiting Angels Aiken, South Carolina is happy to help. In addition to helping seniors stay safe in the heat, our caregivers can also help with light housekeeping, personal grooming, medication reminders, transportation, and meal preparation. Our Aiken office serves those in Aiken, North Augusta, Graniteville, Warrenville, Beech Island, and the surrounding South Carolina communities. If you'd like to learn more about our services, you can complete this form online to give our office a call at 803.335.3660.