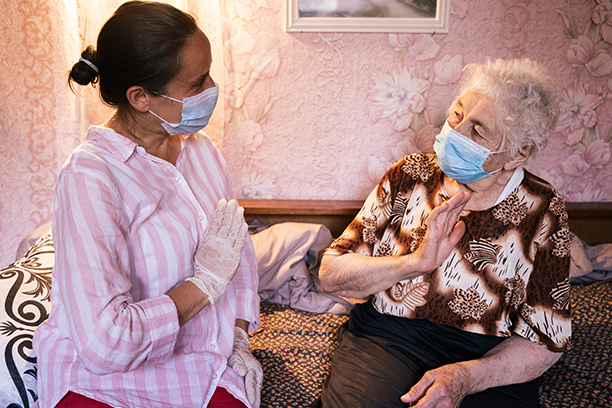 Post-Surgery Comfort Care in Aiken, SC and the Surrounding Area
Visiting Angels' Transitional Comfort Care Makes It Possible for Seniors to Have a Successful Post-Hospitalization Recovery in Aiken, Augusta, Graniteville, and Nearby Cities
The Ready-Set-Go Home program, offered by our comfort care providers, is a transitional care plan that aims to successfully transition seniors to their home after hospitalization. By using a three-prong approach, our goal is to reduce hospital readmission – a serious risk for older adults in the month following a discharge from the hospital.
Did you know…
Did you know that about 20% of elderly patients on Medicare who are discharged from a hospital after an injury end up right back in the emergency room within 30 days of their release? With a much lower chance of recovery during this 30-day window, seniors need a lot of support to avoid these issues – which is why we believe reducing hospital readmission is crucial.
Therefore, we created the Ready-Set-Go Home program, which offers the skilled, assistance of a comfort care provider following a hospital discharge. Our aide and staff can also help with coordinating your senior's return home, support your loved one during this transition, and assist them in the weeks following their return home.
Three-Prong Approach to Reducing Hospital Readmission
Our Ready-Set-Go Home program uses a three-prong approach for reducing hospital readmission:
At the Hospital. Assistance starts while still in the hospital, with help from a comfort care provider. They will support both the senior and their family, guiding them through a hospital discharge. Read through our extensive "Ready-Set-Go Home" guide that includes pertinent questions to ask hospital staff and helpful information to reduce the risk of readmission.
At the Client's Home. At home, your loved one will have essential personal home care support throughout their recovery. Our caregiver will keep a watchful eye on your senior, noting any changes in cognitive or physical health should any arise, and will contact you immediately if need be. When family and friends are primary caregivers and are in need of rest, our aides can support them with Respite Care.
At the Office. Over at the office, our staff work diligently behind the scenes to make sure everything runs smoothly, using tools and programs that flag the risk of readmission. Our office staff can also accompany your senior to medical visits, provide medication and appointment reminders, and help families coordinate equipment, medication, and food deliveries.
Contact Visiting Angels of Aiken to Learn More
Do you need more information on in-home comfort care or are looking to opt in to our services in Aiken, Augusta, Graniteville, Warrenville, or the surrounding area? Call Visiting Angels of Aiken today at 706-607-6528 – we can help you!
Serving Aiken, North Augusta, Graniteville, Warrenville, Beech Island, SC, and the Surrounding Area
Visiting Angels
AIKEN, SC
2218 Woodside Executive Ct,
Aiken, SC 29803
Phone: 803-335-3660
Fax: 678-817-5717