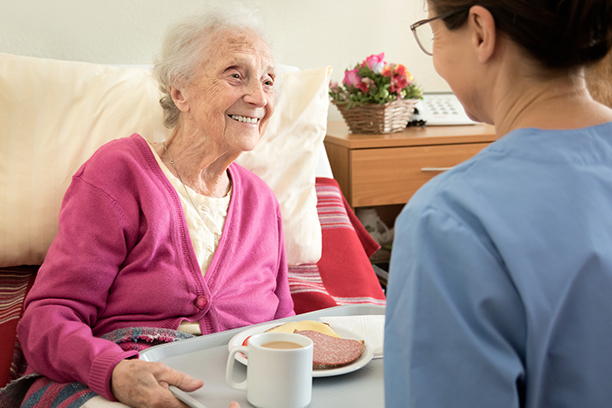 How Certified Palliative Care Can Help Your Aging Loved One in Greater Aiken, SC
Visiting Angels Takes a Holistic Approach to Palliative Care in Aiken, North Augusta, Graniteville, and Surrounding Areas
Most people tend to think of palliative care and hospice care as essentially the same thing. However, while they do share some similarities, they are two different types of care for two different situations.
The reality is that both palliative and hospice care do share a few similarities. The biggest of these is that they both are designed to provide relief from discomfort resulting from a serious illness. The goal of both is to improve the person's quality of life. This is where the fork in the road appears.
Taking the fork to the left is palliative care intended for anyone who requires care that focuses on their comfort, regardless of the projected life span.
Taking the fork to the right is hospice care intended to provide comfort for those diagnosed with a limited life expectancy.
At Visiting Angels of Aiken, we offer a Certified Palliative Care program in Aiken and the surrounding areas that is firmly fixed in providing traditional palliative care. In doing this, our mission is to provide a range of essential personal home care services and assistance.
We Take a Holistic Approach to Providing Care
Visiting Angels of Aiken's affordable home care are provided via our Life Care Navigation™ collection of senior care services. This program also includes a range of end of life care services designed to provide your loved one with comforting, compassionate care during the final days of their life.
Our program teaches caregivers our philosophy of providing our clients with care that is comforting, soothing, and supportive with a holistic approach. Our approach to senior care is to do everything we can to restore hope and help with the healing process.
We accomplish this by caring for a broader range of our client's care needs, including emotional, physical, social, and spiritual. We do this by addressing:
Physical needs, providing essential personal home care services based on our caregivers' ability to recognize and respond to symptoms common among seniors.
Emotional needs by taking a compassionate approach to their care and providing extra support for those living with depression, anxiety, stress, or loneliness.
Social needs by developing close relationships with them along with their families. This includes providing them with friendly conversation and companionship.
Spiritual needs by helping them to find ways to get a little relief and comfort from the many age-related challenges they face and restoring hope. We treat all clients with the dignity and respect they deserve.
The Benefits of Holistic Care at Home
Some may wonder what holistic care can really do for their aging loved one besides care for their every day needs. In reality, there are many benefits for opting for our Certified Palliative Care Program:
Receive quality care at home that revolves around your loved one's physical, cognitive, or emotional set-backs

The focus is on your loved one's health AND happiness

We place our clients' goals, aspirations, and wants first

Our agency will work with your loved one's medical team and other health professionals to create a strategy to care for their complete health needs

We help make chronic illnesses and conditions more manageable for seniors struggling to retain their independence

Our care can help alleviate pain and in turn can reduce hospital re-admission
Getting Started with One on One Care
If you have an elderly loved one who is in need of care in Aiken, North Augusta, Graniteville, Warrenville, or the surrounding area, Visiting Angels of Aiken is here to help. We are happy to answer your questions and schedule a free, in-home consultation with one of our personal care assistants. Our plans revolved around your needs, schedule, and budget and your loved one gets to choose a caregiver that matches their lifestyle and personality. Be sure to contact Visiting Angels of Aiken today at 706-607-6528 to schedule your free, in-home consultation and to learn more about our Certified Palliative Care or other services.
Serving Aiken, North Augusta, Graniteville, Warrenville, Beech Island, SC, and the Surrounding Area
Visiting Angels
AIKEN, SC
2218 Woodside Executive Ct,
Aiken, SC 29803
Phone: 803-335-3660
Fax: 678-817-5717