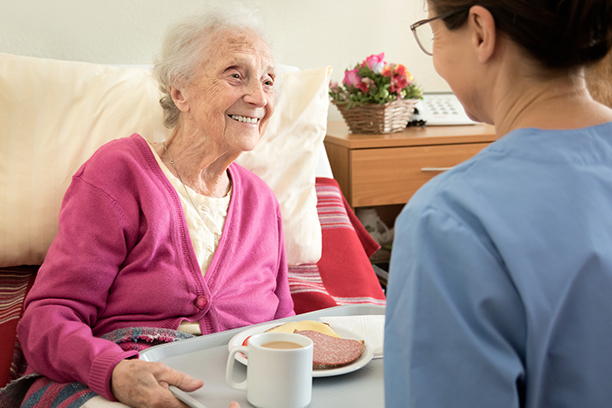 How Our Personal Care Assistants Care for Seniors with Alzheimer's Disease in Aiken, SC and the Surrounding Area
Visiting Angels' Personal Care Assistants Offer Essential Alzheimer's Care in Aiken, Augusta, Graniteville, and Surrounding Areas
Many families fear receiving an Alzheimer's diagnosis for an aging loved one, thinking it will force unwelcome and unwanted changes. Alzheimer's might mean that daily habits, socializing, and even personality traits could change, but it does not mean that your loved one cannot stay safe, healthy, and comfortable in their own home. As more and more seniors decide to age in place, Visiting Angels of Aiken can connect your family with a personal care assistant who can help your loved one stay safe, including those who have been diagnosed with Alzheimer's or dementia.
Early Warning Signs for Alzheimer's
You might have started to notice warning signs of Alzheimer's; it is important that if you notice these signs, you report them to your loved one's doctor. Early signs of Alzheimer's, dementia, and other cognitive diseases include:
Changes in your loved one's ability to remember recent events

Inability to keep a schedule or complete a task

An increase in anxiety, changes in temperament, or mood swings

Trouble with speech, or trouble articulating complex ideas

Decreased interest in socializing or spending time with people
How to Care for Alzheimer's
When your loved one receives assistance from a personal care assistant, they will work with a specialized Angel who understands the best practices in caring for someone with Alzheimer's or dementia. For instance, your caregiver will likely recommend a daily routine, including meal times, medication times, and rest times. For those with Alzheimer's, these simple steps can provide a feeling of comfort or clarity.
While there is no cure for Alzheimer's or dementia, the help of a caregiver means your loved one can still enjoy a good quality of life throughout their golden years. Dedicated, individual assistance means you will also have a resource who can notice changes in your loved one's physical, mental, emotional, and social health. Because Alzheimer's is degenerative, clients with Alzheimer's often need to change their comfort care plans over time to make sure their evolving needs are met.
Contact Visiting Angels of Aiken for Compassionate Alzheimer's Care
If you are struggling to care for a loved one with Alzheimer's or dementia in Aiken, Augusta, Graniteville, Warrenville, or the surrounding area, you do not have to provide care alone. Visiting Angels of Aiken can provide living assistance services at home to your loved one, and make sure they remain in good health and good spirits for as long as possible. Call today at 803-335-3660 to learn more about our personal care assistants for Alzheimer's Care.
Serving Aiken, North Augusta, Graniteville, Warrenville, Beech Island, SC, and the Surrounding Area
Visiting Angels
AIKEN, SC
2218 Woodside Executive Ct,
Aiken, SC 29803
Phone: 803-335-3660
Fax: 678-817-5717