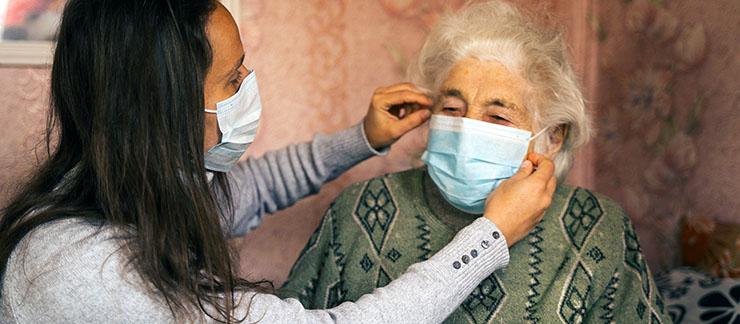 Help Seniors Return to a "New Normal" During COVID-19
COVID-19 has caused numerous changes for people across the U.S., and older adults are no exception. Although the number of COVID-19 cases is declining in some parts of the country, public health experts continue to recommend taking precautions to reduce the spread of the virus and protect vulnerable individuals.
As communities begin to reopen, precautions such as wearing masks, social distancing, limiting trips to the store, increased use of technology, and new check-in procedures at the doctor's office could prove to be upsetting to your older loved one — especially if he or she is living with dementia, memory impairment, or Alzheimer's disease. Make sure to get the latest COVID-19 guidelines and timelines from the Centers for Disease Control and Prevention and other public health agencies.
Here are a few suggestions for how you can help your older loved one adjust to a "new normal" during COVID-19:
Be Ready to Explain the New Normal During the Coronavirus
Older adults who are living with dementia, memory impairment, or Alzheimer's disease may need to be reminded about the reason for taking increased safety precautions. They may wonder why everyone is wearing masks, why they can't visit with family, or why their caregiver is asking them to wash their hands so often. Masks may make it difficult to recognize familiar faces, which could cause increased confusion, anxiety, fear, or paranoia. Some older adults may also resist following safety recommendations due to COVID-19.
Calmly explain the reason for the safety precautions — and issue additional reminders as needed — to help your loved one understand you and their other caregivers are looking out for their health. Other strategies, such as showing your loved one a photo of yourself without a mask or making a game or contest out of washing hands may help ease stress and confusion.
Be Honest, But Not Scary
It's essential to be honest with your older loved one about the risks of COVID-19, particularly if they live in a nursing home or have conditions such as diabetes and heart disease that put them at a higher risk of complications.
Although it is normal for your loved one to express concern and worry about COVID-19, try to avoid causing unnecessary alarm or anxiety. In addition to staying calm and using a normal tone of voice when discussing COVID-19, it may be helpful to reassure your loved one that his or her caregivers are taking the necessary precautions to help them stay safe.
Prepare When Going Out in Public
Your loved one will eventually have to go out in public for a medical appointment or another necessary errand. When this occurs, prepare your loved one by explaining what he or she may encounter during the trip.
Before a visit to the doctor's office, for example, you might start by telling your loved one that he or she will have to wear a mask, and that the office staff will be wearing masks, too. You might also explain that you will have to call the office from the parking lot to let the staff know you are there, answer screening questions, and have your temperature taken.
Encourage Continued Connection with Friends and Family
Not being able to see friends and family is difficult for all of us, but it may be especially tough for older adults. Before you decide to introduce other people into your loved one's "quarantine bubble," you need to assess your loved one's risk factors, the community risks of COVID-19 infection, and your comfort level with those risks. If your loved one is not ready for a visit during reopening, explain the reason for the delay to your loved one and make arrangements for them to continue to connect with friends and family in creative ways during COVID-19.
Get Help from an In-Home Caregiver
Having a trusted in-home caregiver can help your older loved one as they adjust to new routines, activities, and safety precautions during the pandemic. An in-home personal care professional will:
Your caregiver will also take time to patiently explain the reasons for following safety precautions to your loved one while helping them feel safe, secure, and supported as their community reopens.